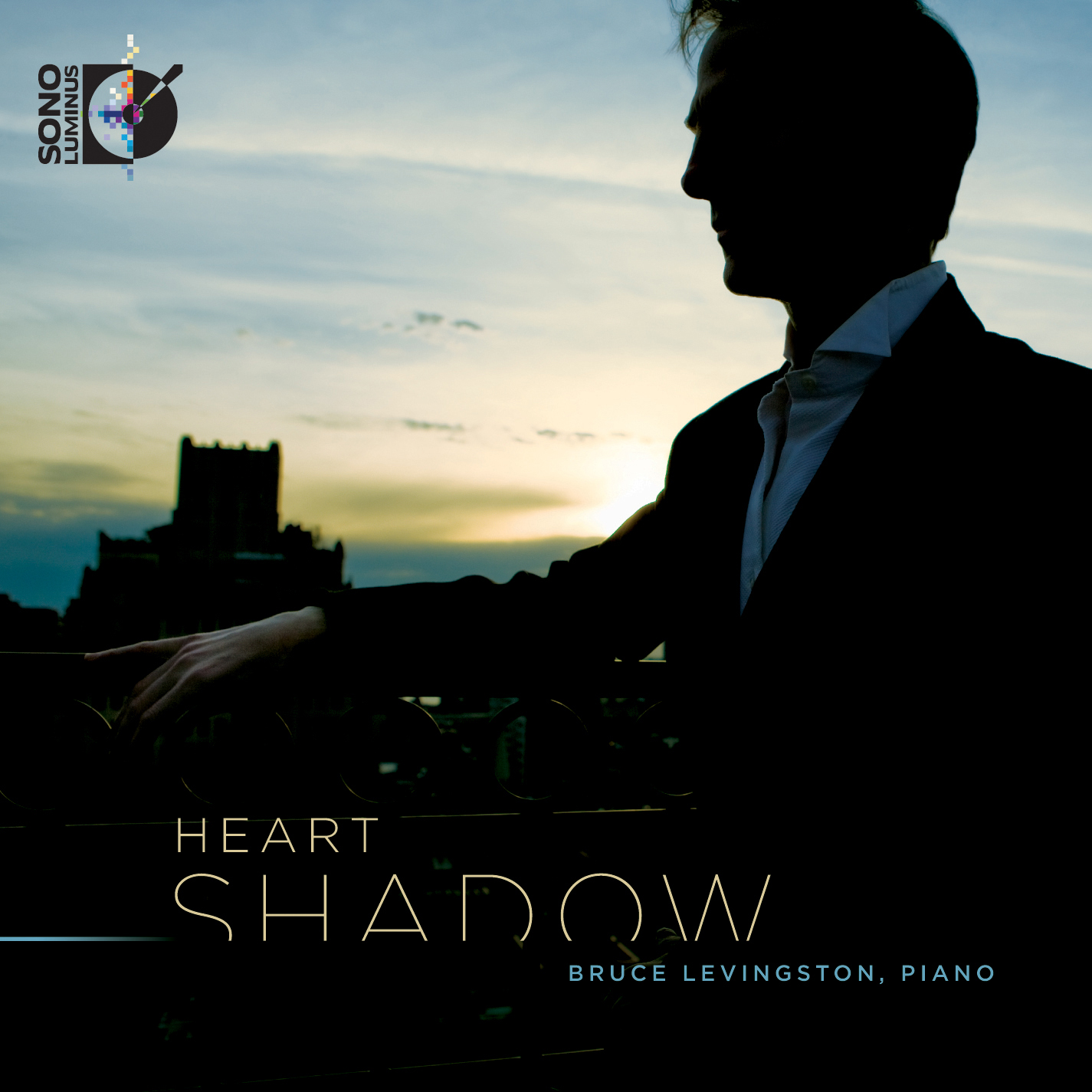 Heart Shadow
Artist: Bruce Levingston
Composers: Robert Schumann, Lisa Bielawa, Charles Wuorinen
Format: 1 CD
DSL-92137
Combining the best of the old and new with world premiere recordings, Sono Luminus is proud to announce the first of three upcoming albums from world renowned pianist Bruce Levingston. Levingston has created programs inspired by literature, the elemental aspects of light and dark, and the power of intimate sound.
The CD Heart Shadow contains three major piano works inspired by literature of the nineteenth and twentieth centuries including world premiere recordings of works by two of the most outstanding composers of our time: Rome Prizewinner Lisa Bielawa and Pulitzer Prize-winner Charles Wuorinen. The inspiration for Bielawa's sweeping and emotionally charged "Elegy-Portrait" comes from a work of Rainer Maria Rilke; Wuorinen's deeply touching and introspective "Heart Shadow" derives its genesis from a novella by Salman Rushdie. These exquisitely wrought and powerful new works, both written by leading composers of their generation, are heard alongside Robert Schumann's brilliant and beloved masterpiece, "Kreisleriana", a work also inspired by the world of letters, E.T. A. Hoffmann's magical Katur Murr. Heard together, in elegant and richly colored interpretations by pianist Bruce Levingston, these three dark and magnificent piano works reflect the deep influences that great music and writing continue to have upon one another.
Pianist Bruce Levingston is one of the country's leading figures in contemporary classical music. He regularly appears in some of the world's most prestigious venues including Carnegie Hall, Lincoln Center, and the Royal Opera House of London. Many of today's most important composers have written music for him and his performances of their works have won notable critical acclaim. The New York Times has praised his "mastery of color and nuance" and The New Yorker has called him "a force for new music."
Levingston's recordings have also garnered numerous accolades. His album Heavy Sleep was named one of the "Best Classical Recordings of the Year" by The New York Times. Gramophone has called his playing "masterly" and praised his "compelling, colourful pianism." The American Record Guide called Levingston "a pianist's pianist."
Levingston has collaborated with some of the most gifted artists of our time including composer Philip Glass, prima ballerina assoluta Alessandra Ferri, dancer Herman Cornejo, actor Ethan Hawke, composer/singer Lisa Bielawa, authors Michael Cunningham and George Plimpton, Colin Jacobsen and Eric Jacobsen and the Brooklyn Rider, and choreographers Jorma Elo and Russell Maliphant. He has also worked with numerous cultural institutions involving art, dance, film and music including American Ballet Theatre, Museum of Modern Art, Whitney Museum, Rooftop Films, SFMoMA, Rooftop Films, Alliance Française/ French Institute, Joyce Theater, the Aspen Institute and Aspen Music Festival.
Levingston is founder and artistic director of the music foundation Premiere Commission, Inc., which has commissioned and premiered over sixty new works, and is the author of Bright Fields: The Mastery of Marie Hull, the comprehensive biography and survey of the work of the noted Southern painter.
Track List
1. Kreisleriana, OP. 16 - Äußerst bewegt — Robert Schumann
2. Kreisleriana - Sehr innig und nicht zu rasch — Robert Schumann
3. Kreisleriana - Sehr aufgeregt — Robert Schumann
4. Kreisleriana - Sehr langsam Length — Robert Schumann
5. Kreisleriana - Sehr lebhaft — Robert Schumann
6. Kreisleriana - Sehr langsam — Robert Schumann
7. Kreisleriana - Sehr rasch — Robert Schumann
8. Kreisleriana - Schnell und spielend — Robert Schumann
9. Elegy-Portrait — Lisa Bielawa
10. Heart Shadow — Charles Wuorinen
Total time: 68:23
Release date: July 2011
UPC: 053479213723