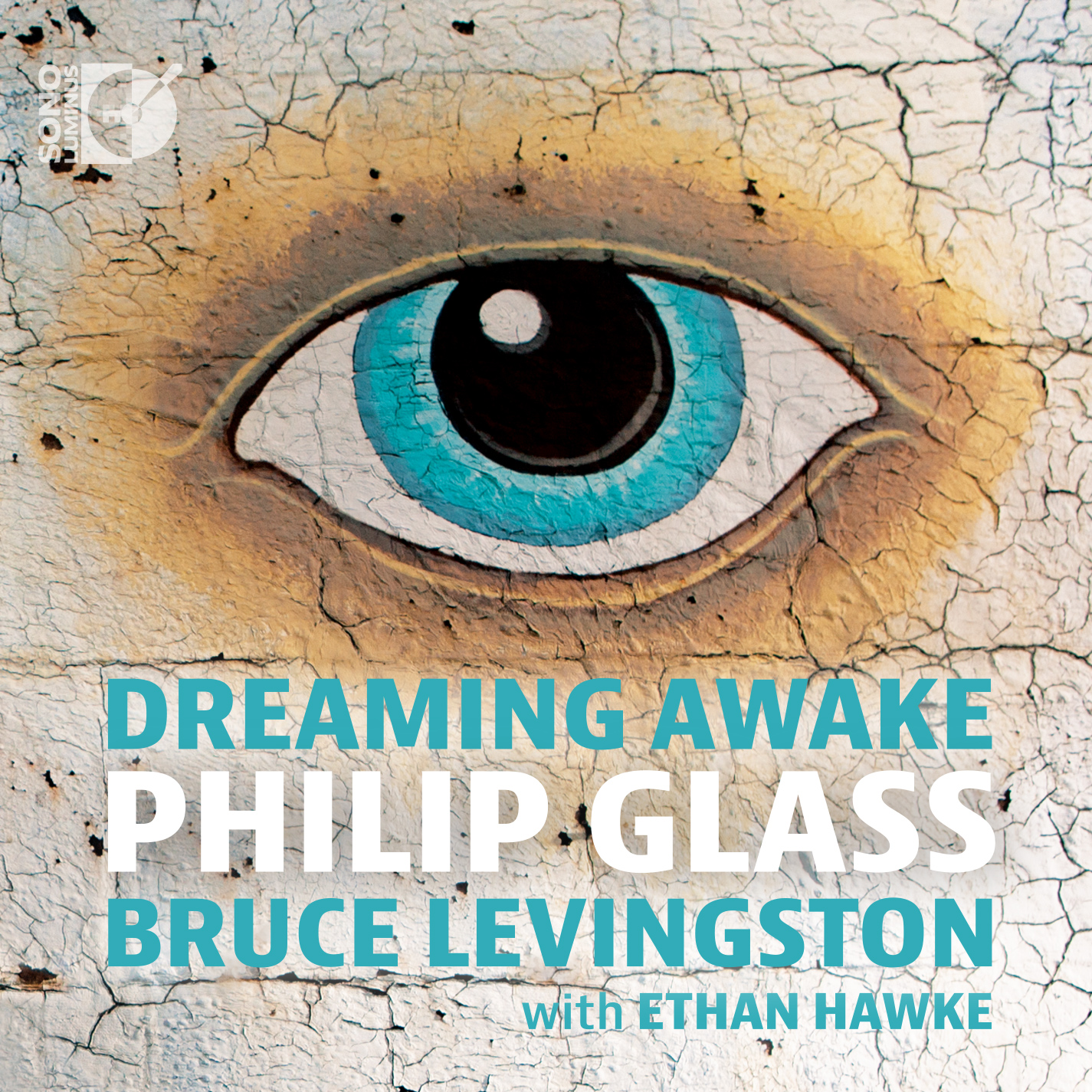 Dreaming Awake
Artist: Bruce Levingston with Ethan Hawke
Composer: Philip Glass
Format: 2 CDs
DSL-92205
Pianist Bruce Levingston has had a long and celebrated association with Philip Glass and his music. In 2004, the composer wrote his musical tribute to the artist Chuck Close especially for Levingston who premiered the work at New York City's Lincoln Center. The following year, Glass joined Levingston in the same venue for a series of piano duos in a concert that also featured Levingston's longtime friend and Chelsea Hotel neighbor actor Ethan Hawke. At that concert, Levingston and Hawke performed Glass's "Wichita Vortex Sutra" that includes a narration of the Allen Ginsberg poem that inspired the work. Glass and Ginsberg had performed and recorded it themselves, but the composer enthusiastically blessed this performance by a new generation of artists. Glass, Hawke and Levingston then together performed the finale of Einstein on the Beach. Glass later invited Levingston to join him in premiering his complete Études at The Brooklyn Academy of Music in New York City in 2014.
Now this extraordinary group of artists is reunited in this Sono Luminus release of Bruce Levingston's new album Dreaming Awake. Levingston, an acclaimed concert pianist and recording artist whose last album, Heavy Sleep (DSL-92183), was named one the "Best Recordings of the Year" by The New York Times, pays tribute to Philip Glass with an exploration of his music that spans the length of the composer's career. This release includes the world premiere recording of "The Illusionist Suite", ten of the composer's dramatic and deeply moving Études, as well as the richly colored tone poems "Dreaming Awake", "Metamorphosis No. 2", and "Wichita Vortex Sutra" featuring Ethan Hawke as guest artist performing the Allen Ginsberg poem with Bruce Levingston.
This new 2-disc album radiates with what The New York Times calls "Mr. Levingston's mastery of nuance and color" and "his extraordinary gifts as a colorist and performer who can hold attention rapt with the softest playing" (MusicWeb International). It is a very intimate and personal tribute from one of the most sensitive, poetic pianists of our time to one of the most influential and important composers of our era.
Pianist Bruce Levingston is one of the country's leading figures in contemporary classical music. He regularly appears in some of the world's most prestigious venues including Carnegie Hall, Lincoln Center, and the Royal Opera House of London. Many of today's most important composers have written music for him and his performances of their works have won notable critical acclaim. The New York Times has praised his "mastery of color and nuance" and The New Yorker has called him "a force for new music."
Levingston's recordings have also garnered numerous accolades. His album Heavy Sleep was named one of the "Best Classical Recordings of the Year" by The New York Times. Gramophone has called his playing "masterly" and praised his "compelling, colourful pianism." The American Record Guide called Levingston "a pianist's pianist."
Levingston has collaborated with some of the most gifted artists of our time including composer Philip Glass, prima ballerina assoluta Alessandra Ferri, dancer Herman Cornejo, actor Ethan Hawke, composer/singer Lisa Bielawa, authors Michael Cunningham and George Plimpton, Colin Jacobsen and Eric Jacobsen and the Brooklyn Rider, and choreographers Jorma Elo and Russell Maliphant. He has also worked with numerous cultural institutions involving art, dance, film and music including American Ballet Theatre, Museum of Modern Art, Whitney Museum, Rooftop Films, SFMoMA, Rooftop Films, Alliance Française/ French Institute, Joyce Theater, the Aspen Institute and Aspen Music Festival.
Levingston is founder and artistic director of the music foundation Premiere Commission, Inc., which has commissioned and premiered over sixty new works, and is the author of Bright Fields: The Mastery of Marie Hull, the comprehensive biography and survey of the work of the noted Southern painter.
Track List
DISC 1
1. Étude No. 2 9:05
2. Étude No. 11 7:45
The Illusionist Suite
3. —I. The Illusionist 2:56
4. —II. The Orange Tree 1:56
5. —III. The Locket 3:08
6. —IV. Life in the Mountains 3:55
7. Étude No. 16 4:06
8. Étude No. 17 12:45
9. Wichita Vortex Sutra 7:26
[with Ethan Hawke]
DISC 2
1. Dreaming Awake 7:28
2. Étude No. 1 5:30
3. Étude No. 5 9:41
4. Étude No. 6 5:43
5. Étude No. 12 8:23
6. Étude No. 9 3:09
7. Étude No. 10 6:15
8. Metamorphosis No. 2 10:21
Disc 1 time: 53:09
Disc 2 time: 56:35
Release date: September 30, 2016
UPC: 053479220523
QUOTES & REVIEWS
I have enjoyed Bruce Levingston's previous Glass release, but am even more excited about this one…One of the best Glass piano programs I have ever heard.
Levingston has given himself over to feeling. This is Glass the Romantic.
Here is a beautiful selection of works for piano by Philip Glass, interpreted with all the romanticism that they command.
...pianist Bruce Levingston shows himself on this double-CD set to be an ideal interpreter of Glass's work. Inaugurating the release with "Etude No. 2" proves to be a masterstroke for the way in which the pianist's sensitive rendering invites a renewed appreciation for Glass's artistry....his softer touch brings forth even more vividly the inherent musicality of the compositions, a case in point his delicate, understated rendering of "Metamorphosis II." No performance of a given work can ever be said to be definitive, but Levingston's certainly come close to seeming so, and one imagines Glass would endorse these versions without reservation.
★ ★ ★ ★ ★
The image of the great eye that stands out on the cover of this unmissable double CD of Sono Luminus, although it refers in all likelihood to the song that gives the title track, can be used as a metaphor for Philip Glass's music, especially that performed here by the extraordinary pianist Bruce Levingston....Levingston understands this duality, and knows when and how to give breath to the ornaments, bring out the melodic design, enhance the rhythmic motor engine, with an exquisite touch, sense of space, dramatic pathos and an overview that makes him the ideal interpreter of these intense works.
Wichita Vortex Sutra, with its subtle shifts of color....includes a brilliant reading of excerpts from Allen Ginsberg's stream-of-consciousness anti-war poem of the same name by Ethan Hawke, is highly recommended.
Levingston gives a rich and colourful performance of the enigmatic, Buddhist-inspired Dreaming Awake. It's an active work of frequent movement between places of intense feeling and moments of great repose. His playing reveals a deep understanding of the music and its composer.
…Levingston is a master in this genre, with complete interpretive access to Glass' work, whether originating in poetic protest or the cinema, whether written for study or meditation.
The pair perform as if their lives depend on it, the collective positivity oozing out of the speakers. Wichita Vortex's optimism alone makes this a mandatory purchase.
★ ★ ★ ★
Glass depicts this emotional battle in the music, Levingston communicates it with is playing, and the producers at Sono Luminus record it with such mastery, yielding a stand-out new release in the contemporary classical realm.