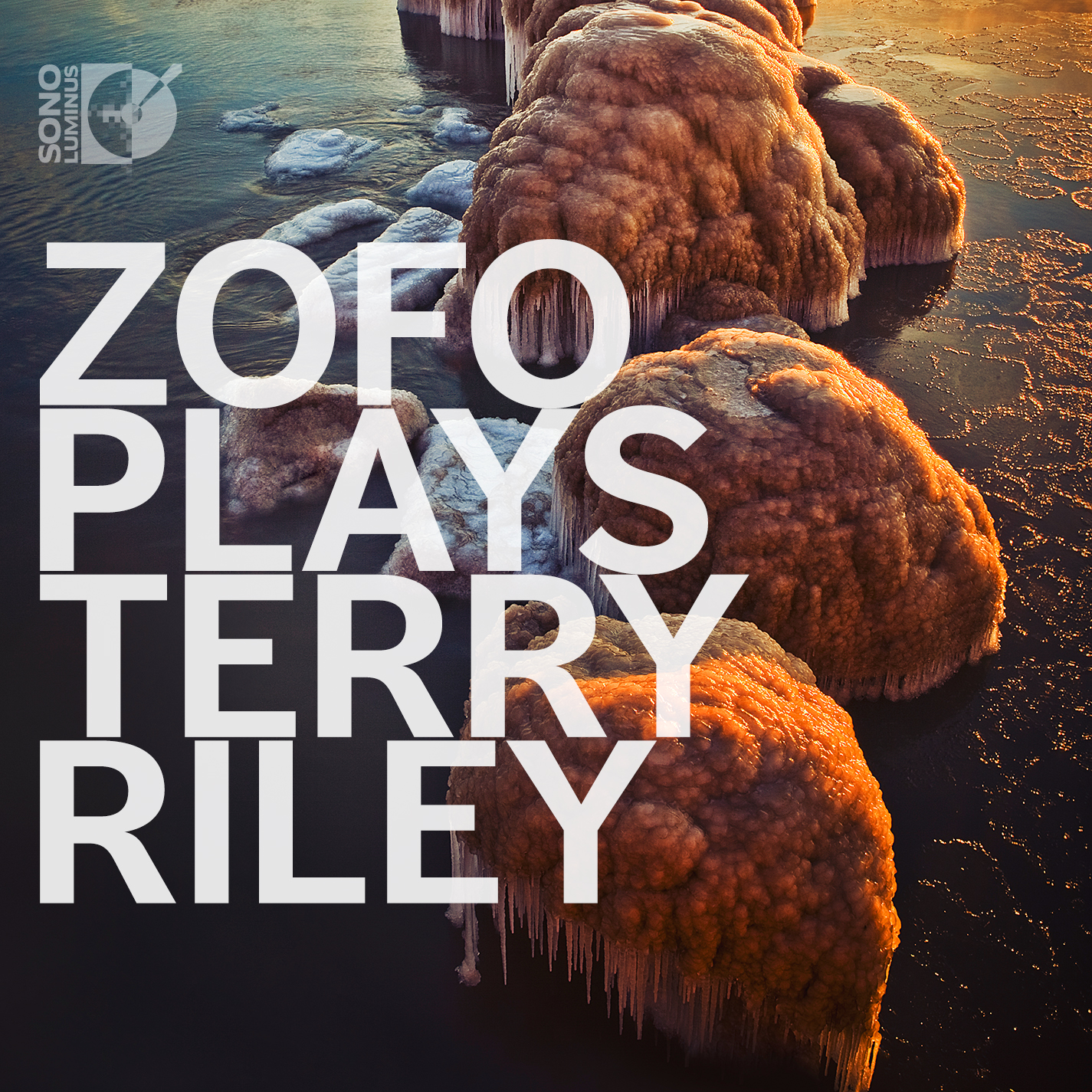 ZOFO Plays Terry Riley
Artist: ZOFO Duet
Composer: Terry Riley
Format: 1 CD + 1 Pure Audio Blu-ray
DSL-92189
ZOFO is at it again, this time with an all Terry Riley album, which includes original compositions, arrangements and a special commission by the duet. It is quite evident in this music that the composer and the performers were personally engaged in the making of this electrifying project. From the very beginning, Terry Riley worked in collaboration with ZOFO in the making of this album. Mr. Riley himself said: "There is nothing quite like hearing the full 8 octaves of a piano sounding in all its orchestral richness." He certainly makes full use of the sounds of the piano in the pieces originally written for piano-four-hands, from The Heaven Ladder, Book 5, which include the varying "Cinco de Mayo," "Jaztine," "Waltz for Charismas," "Tango Doble Ladiado," and "Etude From the Old Country." Keisuke arranged "G Song" and "Half-Wolf Dances Mad in Moonlight," which were originally composed for the Kronos Quartet, and Eva arranged "Simone's Lullaby," originally for solo piano. The arrangements were both challenging and fun to create, but ZOFO managed to keep the transparency and flavor of Riley's originals while exemplifying the unique potential for four-hand piano. The "Praying Mantis Rag" was composed especially for ZOFO, and actively illustrates their vibrant character as a duet.
Since joining forces as a professional duo in 2009, internationally acclaimed solo pianists Eva-Maria Zimmermann and Keisuke Nakagoshi—ZOFO—have electrified audiences from Carnegie Hall to Tokyo, Japan with their dazzling artistry and outside-the-box thematic programming for piano-four-hands. This GRAMMY®-nominated, prize-winning Steinway Artist Ensemble—one of only a handful of duos worldwide devoted exclusively to piano duets—is blazing a bold new path for piano-four-hands groups by focusing on 20th and 21st century repertoire and by commissioning new works from noted composers each year. ZOFO is based in San Francisco, California.
Born June 24, 1935 in Colfax, California, composer and performer Terry Riley is one of the founders of what is now known as music's Minimalist movement. With his seminal composition "In C" (1964), he pioneered a new concept in Western musical form based on structured interlocking repetitive patterns. The composition's creation was to impact and change the course of 20th century music. The influence of Riley's hypnotic, multi-layered, polymetric, brightly orchestrated eastern flavored improvisations and compositions can be heard in the works of prominent composers such as Steve Reich, Philip Glass and John Adams, and in the music of rock groups such as The Who, The Soft Machine, Tangerine Dream, Curved Air and many others. His compositions set the stage for the prevailing interest in a new tonality.
Track List
Terry Riley
1. Etude from the Old Country 13:04
2. Jaztine 9:06
3. Tango Doble Ladiado 3:21
4. Half-Wolf Dances Mad in Moonlight 7:21
5. Simone's Lullaby 5:56
6. G Song 9:44
7. Praying Mantis Rag 3:44
8. Waltz for Charismas 4:39
9. Cinco de Mayo 12:26
Total time: 69:16
Release date: May 26, 2015
UPC: 053479218926
Quotes & Reviews
Riley's fastidiousness and shrewd organisation will surprise anyone who's only heard In C. These pieces fizz with intelligence.
…ZOFO's performances are flawless—Riley is quoted on the booklet: "They think and play as if guided by a universal mind." Demonstration quality sound, as you'd expect from this source, and a bonus Blu-ray audio disc for the technologically gifted. Unmissable.
This latest, ZOFO plays Terry Riley reflects their appetite for the unconventional. To be sure, their few discs do cover some standard repertoire but there is a strong drive in this pair of San Francisco-based performers to find and play the most challenging music they can handle. The result is never short of pure excitement.
Zofo brings all their talents to bear while Riley brings all his talents to the fore and the result is a grandly played 80th birthday present from Riley to himself. Any contemporary classical fan that doesn't get knocked off his pins by this set is really just a tourist. Killer stuff.
From the symphonic expansiveness of Etude From the Old Country to the affecting intimacy of Simone's Lullaby to the neo-impressionism of Cinco de Mayo, the breadth of Riley's imagination continually amazes.
Andrew Quint, The Absolute Sound