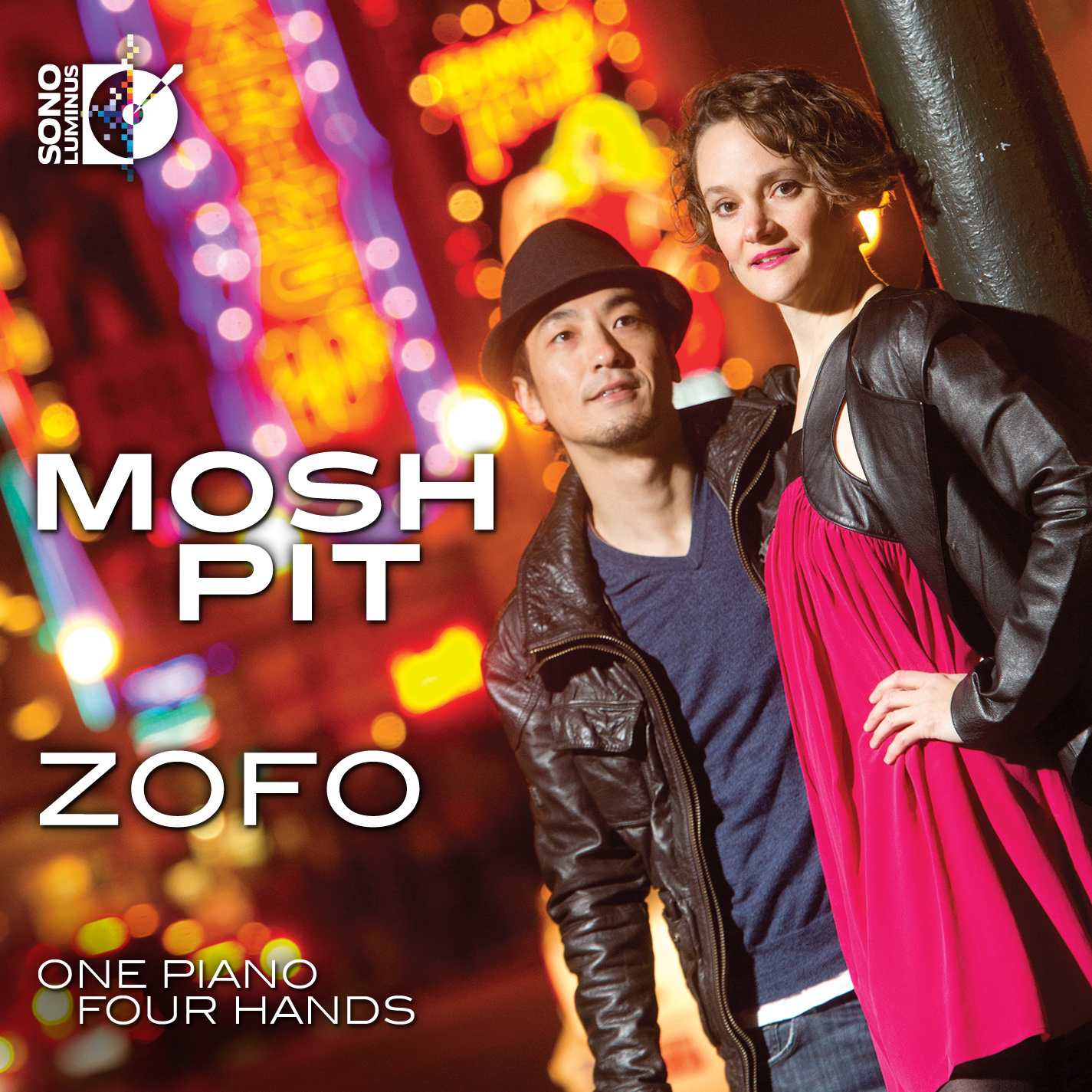 Mosh Pit
Artist: ZOFO Duet
Composers: George Gershwin, Samuel Barber, John Corigliano, Allen Shawn, Paul Schoenfield
Format: 1 CD + 1 Pure Audio Blu-ray
DSL-92167
Sono Luminus is excited to release Mosh Pit, the second album from the dynamic ZOFO Duet. Eva-Maria Zimmermann and Keisuke Nakagoshi put their considerable keyboard skills to the test in an exciting, in-depth exploration of dance-inspired duet compositions by six distinctly American voices of the twentieth century—George Gershwin, Conlon Nancarrow, Allen Shawn, Samuel Barber, John Corigliano and Paul Schoen eld. With pieces ranging from waltz to tango to boogie and beyond, ZOFO's high energy interpretations beg the question: Shall we dance?
ZOFO's first release, Mind Meld (DSL-92151) featured stunning duet works by four highly influential composers of the 20th century who knew each other, learned from each other, sometimes performed together, and embraced the piano-four-hands form—Leonard Bernstein, Harold Shapero, Claude Debussy and Igor Stravinsky. The album was widely acclaimed by critics and received a 55th Annual GRAMMY® Award Nomination for Best Chamber Music/Small Ensemble.
For this, their second album, ZOFO returns with exciting, high energy duet works by another group of noted 20th century composers, all American—George Gershwin, Conlon Nancarrow, Allen Shawn, Samuel Barber, John Corigliano and Paul Schoen eld. The pieces featured on Mosh Pitexplore a wide range of evocative dance styles and rhythms, from Gershwin's driving rumba in "Cuban Overture" to Barber's sensuous "Hesitation- Tango" to Paul Schoenfield's dizzying "Boogie" from Five Days from the Life of a Manic Depressive. Drawing inspiration from classical, modern, jazz, and rock and roll forms, the Mosh Pit repertoire and ZOFO's inspired performances might tempt you to the dance floor.
ZOFO is the dynamic partnership of internationally acclaimed solo pianists Keisuke Nakagoshi and Eva-Maria Zimmermann. One of a rare handful of professional ensembles worldwide focusing exclusively on piano duets, ZOFO is rediscovering and energetically performing hidden gems of the traditional one-piano-four-hands repertoire, along with a strong dedication to 20th and emerging 21st century works. As innovators in the genre, ZOFO also performs heart pumping one-piano-four-hands arrangements of famous orchestral pieces, such as Igor Stravinsky's Rite of Spring, exploring the realms in which many composers rst experienced their symphonic visions.
Since their first performance together in the fall of 2009, ZOFO was awarded First Place in the prestigious 2010 Bradshaw & Buono International Piano Competition and made their New York concert debut as an ensemble at Carnegie Hall in May, 2010. In May 2011 ZOFO was invited to compete in the Osaka International Chamber Music Competition, Osaka Japan, and were elevated to the final round—the only piano duo to achieve that distinction. Their first album, Mind Meld, received a 55th Annual GRAMMY® Nomination for Best Chamber Music/Small Ensemble.
Track List
George Gershwin
1. Cuban Overture
Conlon Nancarrow
Sonatina
2. I. Presto
3. II. Moderato – Piu Allegro
4. III. Allegro Molto
Samuel Barber
Souvenirs Op. 28
5. I. Waltz
6. II. Schottische
7. III. Pas de deux
8. IV. Two-Step
9. V. Hesitation – Tango
10. VI. Galop
John Corigliano
Gazebo Dances
11. I. Overture
12. II. Waltz
13. III. Adagio
14. IV. Tarantella
Allen Shawn
Three Dance Portraits
15. I. Lilting
16. II. Grazioso
17. III. Hard Edged
Paul Schoenfield
Five Days from the Life of a Manic-Depressive
18. I. Metamorphoses on "I'm Crazy 'Bout My Baby"
19. II. Labyrinth
20. III. Elegy
21. IV. From a Bintel Brie
22. V. Boogie
Total time: 76:31
Release date: April 2013
UPC: 053479216724
Quotes & Reviews
ZOFO executes to near perfection, a varied program of twenty fingers tickling the ivories of one Steinway. The perfect interplay of all those digits comes from considerable experience as a musical team and makes for a terrific way to spend an hour-plus. The repertory choices are brilliant...