Starry Night: Préludes Book I & Other Works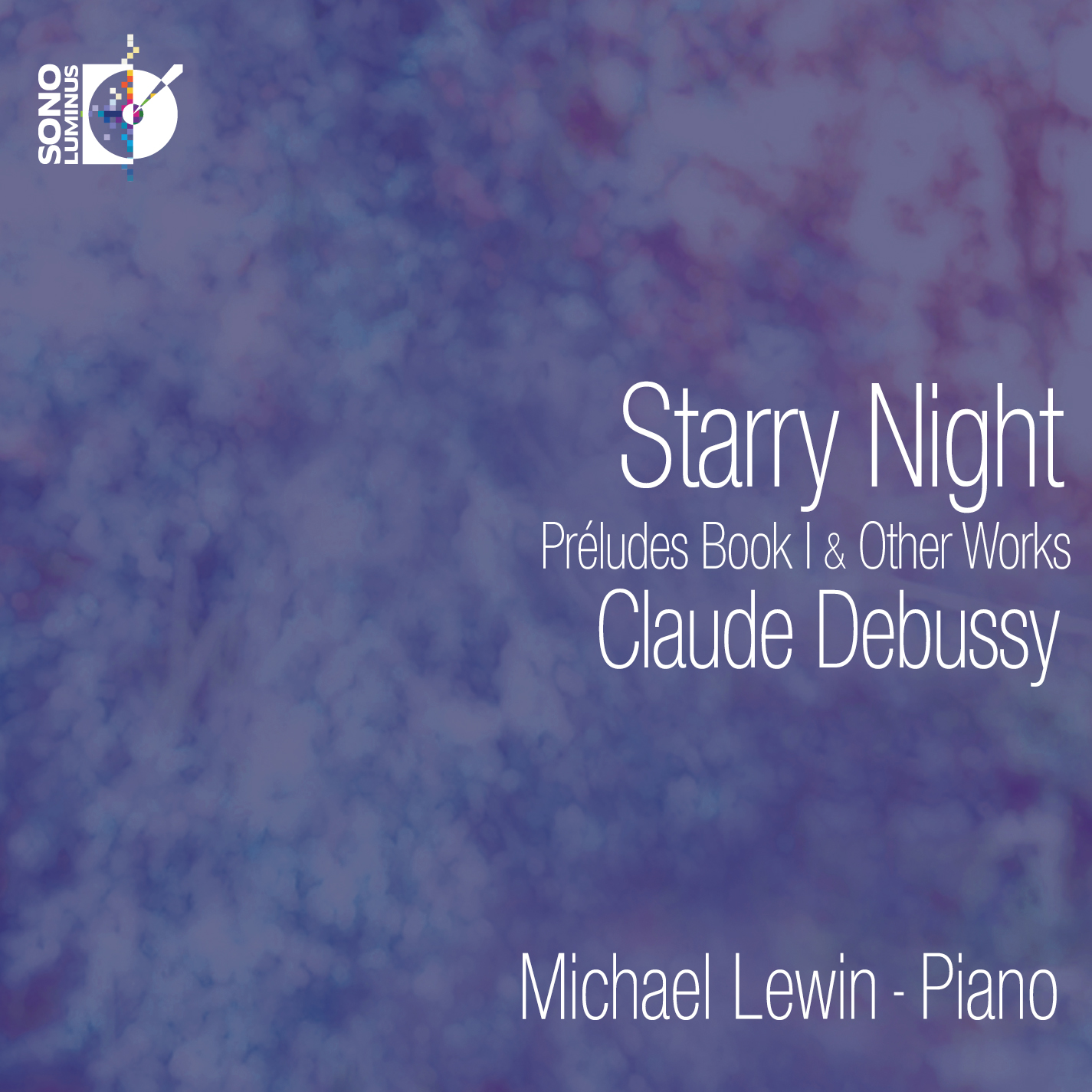 Starry Night: Préludes Book I & Other Works
Artist: Michael Lewin
Composer: Claude Debussy
Format: 1 CD + 1 Pure Audio Blu-ray
DSL-92190
sale
Starry Night is Michael Lewin's fourth studio recording for Sono Luminus, providing the companion disc to his critically-praised Beau Soir (DSL-92175), containing the Debussy Préludes Book II and other works. Starry Night opens with worldly "Estampes" (Prints) (1903), which contains three movements: Pagodes (Pagodas), La soirée dans Grenade (Evening in Granada), and Jardins sous la pluie (Gardens in the Rain). It follows with the delightfully impressionistic "Arabesque No.1 in E Major" (1888), "Golliwog's cake walk" (1908), "Les soirs illuminés par lardeur du charbon" (Evenings lit by the burning coals) (1917), and of course "Nuit d'etoiles" (Starry Night) (1880). "Nuit d'etoiles" was written by Debussy when he was 18 for voice and piano, using a setting of a poem by Banvile. Koji Attwood made a stunning transcription for solo piano, making its debut recording on this album. The album finishes with Debussy's iconic "12 Préludes, Book I" written in 1910. Lewin adds a refreshing grace to these traditionally revered pieces.
A Julliard School graduate and a Steinway Artist, Michael Lewin was a student of Leon Fleisher. Debussy is one of his favorite composers — he studied the piano music with the legendary French pianist Yvonne Lefébure, who had played it for the composer. They worked together in Debussy's hometown of St-Germain-en-Laye, in the same Conservatoire where he had studied as a boy, during the last summers of her life.
With an active repertoire of 40 piano concertos, Lewin has appeared as soloist with many different orchestras and esteemed conductors from around the world. He has premiered two Concertos by David Kocsis and performed Gershwin's Rhapsody in Blue over 50 times. Lewin's Career was launched with top prizes in the International Liszt Piano Competition, the William Kapell International Competition and the American Pianists Association Award. Following his New York recital debut in Lincoln Center the New York Times wrote that "his immense technique and ability qualify him eminently for success." Since then he has concertized widely in solo recital, with orchestras and as a chamber musician. His discography reflects his interest in and command of a notably wide-ranging repertoire, and he was the featured artist in the 2014 album "Winds of Samsara," which won the 2014 GRAMMY Award in the New Age Category.
Track List
Estampes
1. I. Pagodes 5:55
2. II. La soirée dans Grenade 5:23
3. III. Jardin sous la pluie 3:47
4. Arabesque No. 1 in E Major 4:17
5. Golliwog's cake walk 3:05
6. "Les soirs illuminés par l'ardeur du charbon" 2:34
7. Nuit d'etoiles 4:36
Préludes, Book I
8. I. Danseuses de Delphes 3:12
9. II. Voiles 3:39
10. III. Le vent dans la plaine 2:12
11. IV. "Les sons et les parfums tournent dans l'air du soir" 3:31
12. V. Les collines d'Anacapri 3:06
13. VI. Des pas sur la neige 3:51
14. VII. Ce qu'a vu le vent d'ouest 3:28
15. VIII. La fille aux cheveux de lin 2:33
16. IX. La sérénade interrompue 2:30
17. X. La cathédrale engloutie 6:06
18. XI. La danse de Puck 2:52
19. XII. Minstrels 2:30
Total time: 1:08:56
Release date: July 31, 2015
UPC: 053479219022
Quotes & Reviews
…Lewin gets just about everything right, each piece flawlessly characterised.
Lewin's interpretations of Debussy stand out. He captures both the brilliance and subtlety of Debussy's imagination.
American Record Guide (January/February 2016)
Overall, Michael Lewin succeeds where other pianists of his generation have fallen short when performing the works of Debussy. His virtuosity cannot be underestimated and with this offering, his splendid interpretations continue to distinguish him as an abundantly gifted pianist whose command of Debussy's repertoire remains unmatched.
Michael Lewin's new album, Starry Night, his second all-Debussy disc, surely must rank among the most poetic and sensitive Debussy recordings of recent memory. Virtually everything he does in Estampes, the first book of Preludes, and the several independent pieces between them is clearly thought out and powerfully projected: he knows how to make this music speak and come to life in a special way.
Michael Lewin provides another terrific Debussy recital that will stand up well against the stiff competition that is already present in the Debussy recording world.
If you are familiar with the standard Debussy readings, you will no doubt find the superior sonics and poetics of the Lewin versions here much to your liking. Don't know Debussy's piano works much? Start with this one, by all means.
Lewin's approach is one that the composer himself, who often complained bitterly about the pianists who attempted his music, would surely have warmly welcomed. He is careful to avoid exaggeration or distortion, but is sensitive to all the magical colours created by the music.
His performance avoids the pitfall of self-indulgence, so tempting with this repertoire. He never loses himself in the hypnotic but stays in complete control.
Best Solo Piano Recording of 2015
Many pianists play the works of Debussy, but, especially in the performances on Starry Night, Lewin experiences them—and enables the listener to experience them, as well. Thus does he cultivate art where others are content to hide behind artifice.
Lewin paints an alluring wonderland of Debussy's endless colors in this attractive recording.
Sin-Hsing Tsai, Clavier Companion