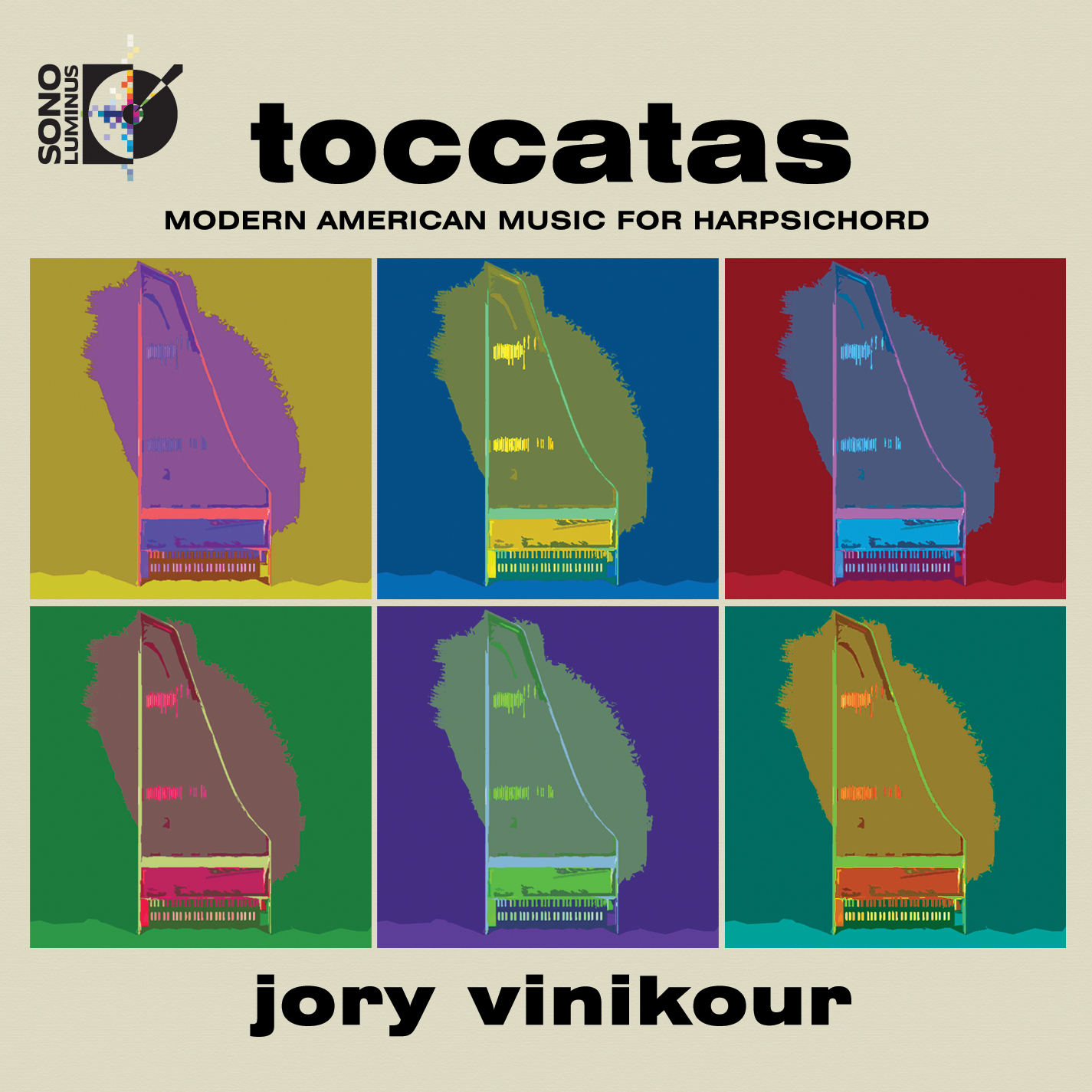 Toccatas
Artist: Jory Vinikour
Composers: Samual Adler, Thomas Benjamin, Stephen Blumberg, Henry Cowell, Harold Meltzer, Robert Moevs, Patricia Morehead, Robert Muczynski, Mel Powell, Ned Rorem
Format: 1 CD + 1 Pure Audio Blu-ray
DSL-92174
Sono Luminus presents this engaging and exciting grouping of modern works for the harpsichord that takes full advantage of all of the tonal and harmonic characteristics of this dynamic instrument. This virtuosic performance by GRAMMY® nominated harpsichordist Jory Vinikour. This album brings a new musical spin to the instrument which is better associated
with Bach, Rameau, and Couperin, than rousing composers here. Towards the beginning of the 20th century, after more than a century of obscurity, the harpsichord enjoyed a conspicuous revival. This spirit of revival continues in this latest Sono Luminus release, with many of the works on Toccatas written for Mr. Vinikour.
Regarding the inspiration behind this recording, Jory states, "During my years of study, rst as a pianist, later as a harpsichordist,I always felt compelled to perform new works written by my peers and my professors. The impetus for this recording is derived from this curiosity. In 2010, my friend Stephen Blumberg invited me to present a recital of 20th century American harpsichord recital at the New American Music Festival in Sacramento. This rare opportunity provided me the occasion to immerse myself in the preparation of fascinating repertoire by important composers. I am doubly fortunate that some of these composers dedicated works to me (on this recording, Blumberg, Meltzer and Morehead). My thanks to these composers, and to Sono Luminus, whose enthusiasm made this recording possible."
Jory Vinikour is recognized as one of the outstanding harpsichordists of his generation. A highly diversi ed career brings him to the world's most important festivals and concert halls as recital and concerto soloist, partner to several of today's nest singers, andas one of the most visible continuo performers. Born in Chicago, Jory Vinikour came to Paris on a scholarship from the Fulbright Foundation to study with Huguette Dreyfus and Kenneth Gilbert. First Prizes in the International Harpsichord Competitions of Warsaw (1993) and the Prague Spring Festival (1994) brought him to the public's attention, and he has since appeared in festivals and concert series throughout much of the world.
In 2012, Jory Vinikour's album, The Complete Harpsichord Works of Rameau (DSL-92154) received a 55th Annual GRAMMY®Nomination for "Best Classical Instrumental Solo".
Track List
1. Recitative and Toccata Percossa (1953) - Mel Powell (1923-1998) 7:45
2. Ostinato (from Set of Four, 1960) - Henry Cowell (1897-1965) 2:24
3. Spiders (1968) - Ned Rorem (b. 23 October, 1923) 2:48
Sonata (1982) - Samuel Adler (b. 4 March, 1928)
4. Fast, very rhythmic 3:11
5. Slowly and expressively 4:46
6. Very fast 3:12
Profiles (1982) - Robert Muczynski (1929-2010)
7. Moderato 1:49
8. Allegro 2:25
Three movements (1988) - Thomas Benjamin (b. 1940)
9. Prelude 1:30
10. Cantilena 2:34
11. Toccata 2:27
12. Saraband (1986) - Robert Moevs (1920-2007) 4:53
13. Gyre (1991) - Stephen Blumberg 7:26
14. Tourbillon Galaxy (2012) - Patricia Morehead (b. 1940) 3:10
Five Toccatas (2005) - Harold Meltzer (b. 1966)
15. Toccata no. 1 :44
16. Toccata no. 2 3:16
17. Toccata no. 3 3:02
18. Toccata no. 4 2:04
19. Toccata no. 5 2:23
Total time: 61:49
Release date: 2013
UPC: 053479217424