Sculthorpe: The Complete String Quartets with Didjeridu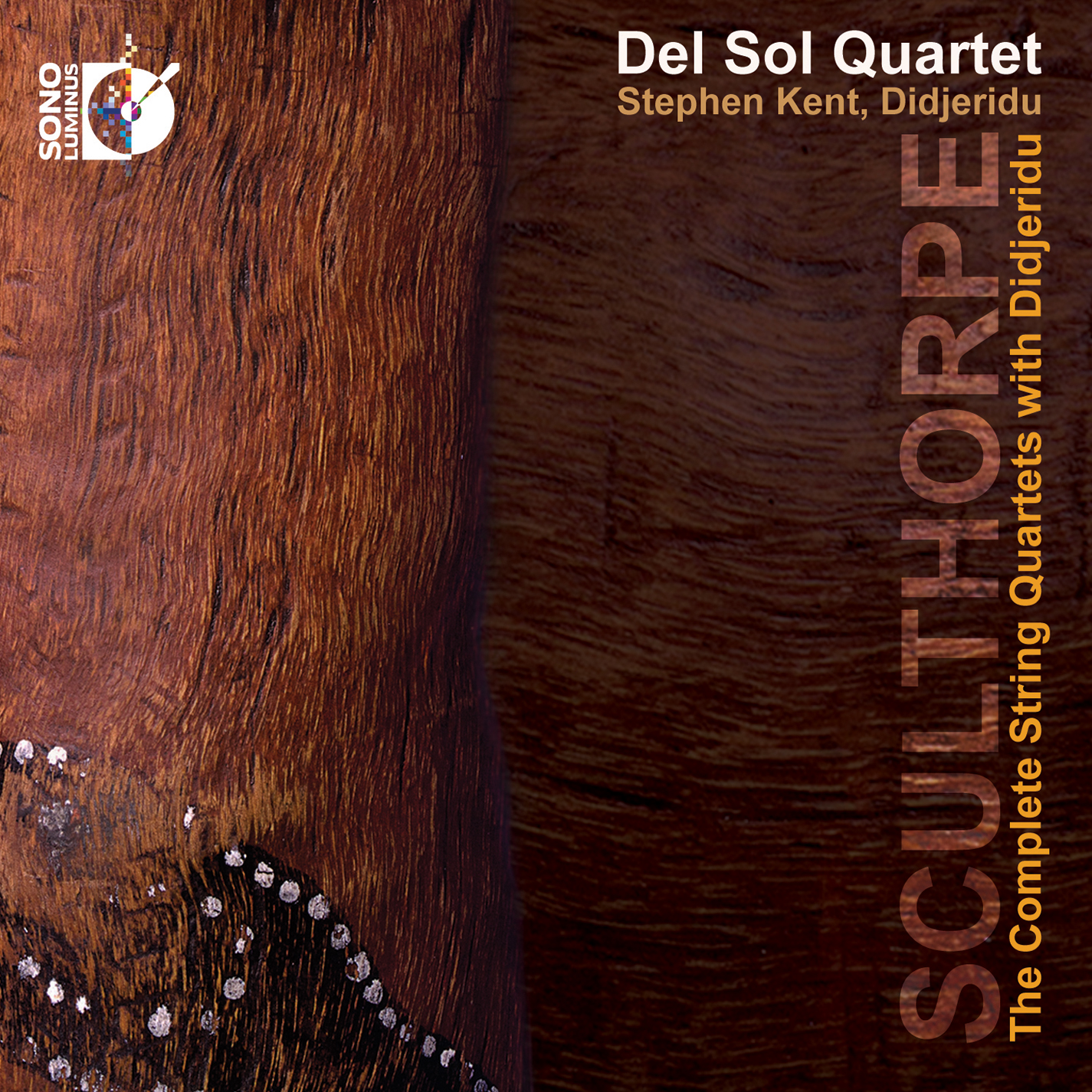 Sculthorpe: The Complete String Quartets with Didjeridu
Artists: Del Sol String Quartet, Stephen Kent
Composer: Peter Sculthorpe
Format: 2 CDs + 1 Pure Audio Blu-ray
DSL-92181
sale
The Del Sol String Quartet teams up with didjeridu virtuoso Stephen Kent to bring to life the Complete String Quartets with Didjeriu by Australian composer PeterSculthorpe. The result is a unique and exciting aural experience, lled with rich organic sonic colors brought to life through the use of the traditional quartet and the indigenous sounds of the didjeridu. Charlton Lee of Del Sol says it's: "Amongst the amazing artistic collaborations that Del Sol has had in our 22-years of music making…"
Born in Launceston in 1929, Peter Sculthorpe was educated at the University of Melbourne, and Wadham College, Oxford. He is an Emeritus Professor at the University of Sydney, where he began teaching in 1964. He has been a visiting fellow at Yale University, USA, and Sussex University, UK, and has taught at universities within and outside Australia. He holds honorary doctorates from the universities of Tasmania, Sydney, Melbourne, Sussex and Grif th. An Of cer of both the Order of Australia and of the British Empire, in 1998 he was elected a National Trust of Australia National Living Treasure. In 2002, he was elected to Foreign Honorary Membership of the American Academy of Arts and Letters.
Peter Sculthorpe has written works in most musical forms. His output relates closely to the social and physical climate of Australia, and the cultures of thePaci c Basin. He was in uenced by the music of Asia, especially during the 1960s by that of Japan and Indonesia. In recent years he has become more deeply in uenced by the Australian Aboriginal and Torres Strait Island music and culture.
The San Francisco based Del Sol String Quartet, two-time winner of the top Chamber Music America/ASCAP Award for Adventurous Programming, commissions and performs outstanding new works from around the world, provides innovative educational programs. They have released six prior CDssince 2002, including their rst Sono Luminus release "ZIA" (DSL-92164). The group also collaborates with other artists in multi-media, dance, video andopera productions. Del Sol has commissioned and premiered pieces by composers such as Mason Bates, Kui Dong, Gabriela Lena Frank, Tania León, Keeril Makan, Hyo-shin Na, Ronald Bruce Smith, Chinary Ung and Reza Vali, among many others.
Multi-instrumentalist and composer Stephen Kent was born in Britain and spent his formative years in East Africa. Trained on the French horn, headapted western brass instruments to didjeridu techniques while music director of Australia's Circus Oz (1981-83). This group's support for Aboriginalculture led him deeper into Aboriginal land and inspired his playing the didjeridu. Since the mid 1980's, he has pioneered the contemporary use of didjeridu in myriad collaborations with an extraordinary range of musicians, dancers and artists. He has performed all around the world and has a catalog of over 20 recordings, including 6 solo works and others with groups including Trance Mission, Lights in a Fat City, and Baraka Moon.
This is the first complete set of these works and they were recorded at the Sono Luminus Studios in 24bit 192kHz 7.1 surround sound and are delivered to the listener in this package on Pure Audio Blu-ray in 5.1, 7.1, and high-resolution stereo, and 2 standard resolution CD's. The Blu-ray also includes digital copies via mShuttle.
Track List
CD 1
1 String Quartet No. 12 "From Ubirr"
String Quartet No. 14 "Quamby"
2 I. Prelude
3 II. In the Valley
4 III. On High Hills
5 IV. At Quamby Bluff
CD 2
String Quartet No. 16
1 (6*) I. Loneliness
2 (7*) II. Anger
3 (8*) III. Yearning
4 (9*) IV. Trauma
5 (10*) V. Freedom
String Quartet No. 18
6 (11*) I. Prelude
7 (12*) II. A Land Singing
8 (13*) III. A Dying Land
9 (14*) IV. A Lost Land
10 (15*) V. Postlude
*Blu-ray tracks
Total time: 82:11
Release date: September 2014
UPC: 053479218124
Quotes & Reviews
Sono Luminus gives us a real treat…The music is exotic, sensual, tragic, and more. Sculthorpe really has the full measure of the medium, and his use of the didgeridoo works with the quartet surprisingly well.
The American Del sol Quartet's obvious understanding of this ultra-Australian, their fine textural blending and depth of tone all contribute to the success of these performances…the recording quality is among the best I have heard on a new quartet release for some time.
The players of the San Francisco-based Del Sol Quartet are entirely attuned to Sculthorpe's rich, lyrical sound world. They're unafraid to give full rein to his yearning, diatonic melodies and pulsing accompaniments in their finely articulated readings, which nevertheless sound fresh and spontaneous.
In this amazing new release, The Del Sol String Quartet combines with didjeridu master Stephen Kent in Sculthorpe's four string quartets that use this unusual but stunning combination. The results are very unique and attention-getting combining the raw, indigenous signature sound of the didjeridu with the very classical European sound of a string quartet. Part of Sculthorpe's skill is to develop a sound that works amazingly well with such diverse combinations but also to create music that sounds at once traditional and "other worldly."