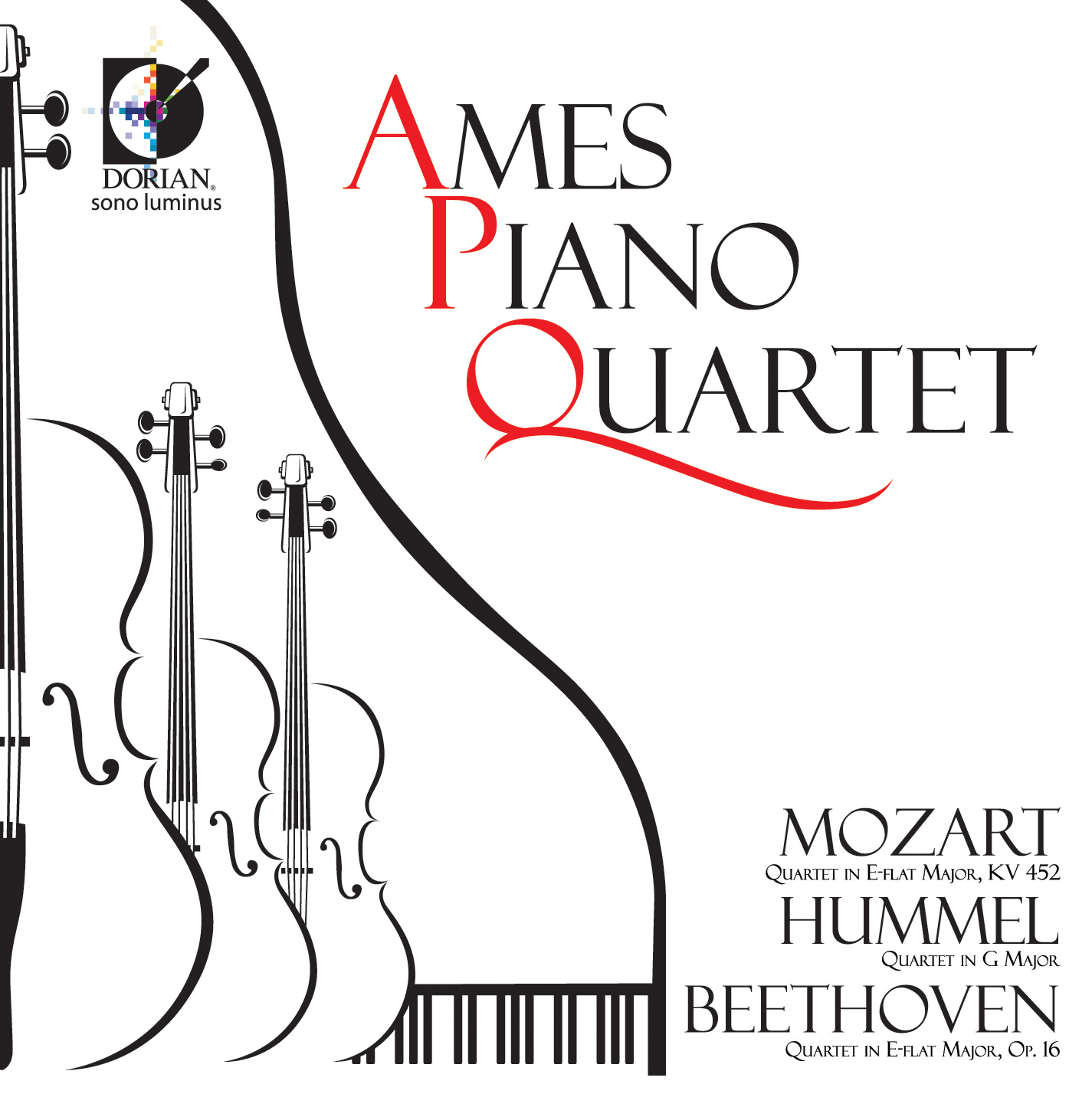 Mozart—Hummel—Beethoven
Artist: The Ames Piano Quartet, Mahlon Darlington (violin), George Work (cello), Jonathan Sturm (viola), William David (piano)
Composers: Wolfgang Amadeus Mozart, Johann Nepomuk Hummel, Ludwig van Beethoven
Format: 1 CD
DSL-92120
Sono Luminus invites you to hear a "new" take on some famous pieces for winds, performed here by the Ames Piano Quartet in their 10th release with the label. Though most often heard in the more common versions for winds, enjoy these works in their piano quartet versions published by Mozart and Beethoven, matched with the beautiful piano quartet by Hummel.
The Ames Piano Quartet, the resident chamber music ensemble at Iowa State University, holds a distinctive position in the chamber music eld as one of the few professional touring piano quartets in the world. The combination of their lush string sound, blended with the orchestral quality of the piano, produces an exquisite and rare sonority. The Washington Post aptly described it as "one of the most heavenly combinations of instruments around."
The ensemble has toured throughout the United States, including concerts in New York, Los Angeles, Chicago, Detroit, Denver, San Diego, and Washington D.C. The Ames Piano Quartet's most recent international touring has been in Kaliningrad, Russia and in Barrie, Ontario, where it served as ensemble-in-residence at the 2009 Colours of Music Festival. It has also performed in Mexico, France, Austria, and the Far East. In 2003 the Quartet spent a week concertizing and teaching in Havana, Cuba, the first American chamber music group to perform there in over forty years. In May 2006, the Quartet toured South Africa with renowned baritone Simon Estes.
Writing to his father, Leopold, from Vienna on March 3, 1784, Mozart outlined a schedule of private and public concerts he was preparing to hold during the coming Lenten season. Among the new works that Mozart produced for his concerts was the Quintet in E- at for piano and winds (KV 452). When, on April 10, Mozart again wrote Leopold to report on the success of his concert series, he noted with satisfaction that the quintet "was extraordinarily well received" and further commented, "I myself think it's the best thing I've ever written." The music for the quintet first saw print in 1794 when the Artaria rm in Vienna issued it in an arrangement for piano, violin, viola, and cello. Nothing is known of when the arrangement for quartet was made or by whom. Evidently, however, the quartet version sold well, for other publishers in Germany and France also issued it during the decade following its initial appearance.
Throughout his life, Hummel was proud to declare himself a pupil of Mozart's. The music for the Piano Quartet in G was among nine manuscripts that Hummel's wife, Elisabeth, sold to the Leipzig rm of Breitkopf & Härtel following her husband's death in 1837. Though Hummel had written a piano quartet (in D) when he was in his early teens, the piano quartet in G was the only such work he produced in his maturity, despite his celebrity as a performing pianist. That he left the work unpublished is not altogether surprising, as he often chose to keep his compositions for his own use. What is more clearly unusual is the quartet's two-movement structure, which invites a suspicion that the piece was never completed or that a movement has been lost. Hummel would surely have been aware of Mozart's two piano quartets, both of which are in three movements and both of which were published at the time that Hummel was studying with Mozart. If, though, Mozart's example did prompt Hummel to undertake his own essay of the form, he did not emulate his teacher's attention to fashioning his quartets as a meeting of equals. Instead, Hummel's quartet tends to showcase the piano, with the strings serving in a supporting role.
While the originator of the strings version of Mozart's quintet (KV 452) is unknown and the date of Hummel's two-movement piano quartet is uncertain, no like mystery attaches to the arrangement for piano and strings of Beethoven's Quintet for Piano and Winds, Op. 16. Ferdinand Ries (Beethoven's friend and colleague) attested that the piano quartet version was written by Beethoven himself, one of the few occasions that he undertook such a task. More typically, Beethoven left the labor of arranging any of his pieces to one of his associates, including Ries. Written in 1796-1797, Beethoven's Piano Quintet in E- at was clearly modeled upon Mozart's quintet, with which it shares not only its key and unusual corps of performers but also structural features.
This sonic treat will delight listeners with this fresh take on these popular works, not performed as they are usually heard, but with the original composers hands guiding the way. Performed by one of the world most preeminent piano quartets, the sonorities of these arrangements are sure to delight fans of the more commonly heard wind versions, as well as lovers of piano quartet music.
Track List
Quartet in E-flat Major, KV 452-Mozart
1. Largo-Allegretto moderato
2. Larghetto
3. Allegretto

Quartet in G Major-Hummel
4. Andante cantabile
5. Allegro con spirito

Quartet in E-flat Major, Op. 16-Beethoven
6. Grave-Allegro ma non troppo
7. Andante cantabile
8. Rondo: Allegro ma non troppo
Total time: 70:02
Release date: January 2011
UPC: 053479212023