Vaughan-Williams, McDonald & Suesse: Concertos for Two Pianos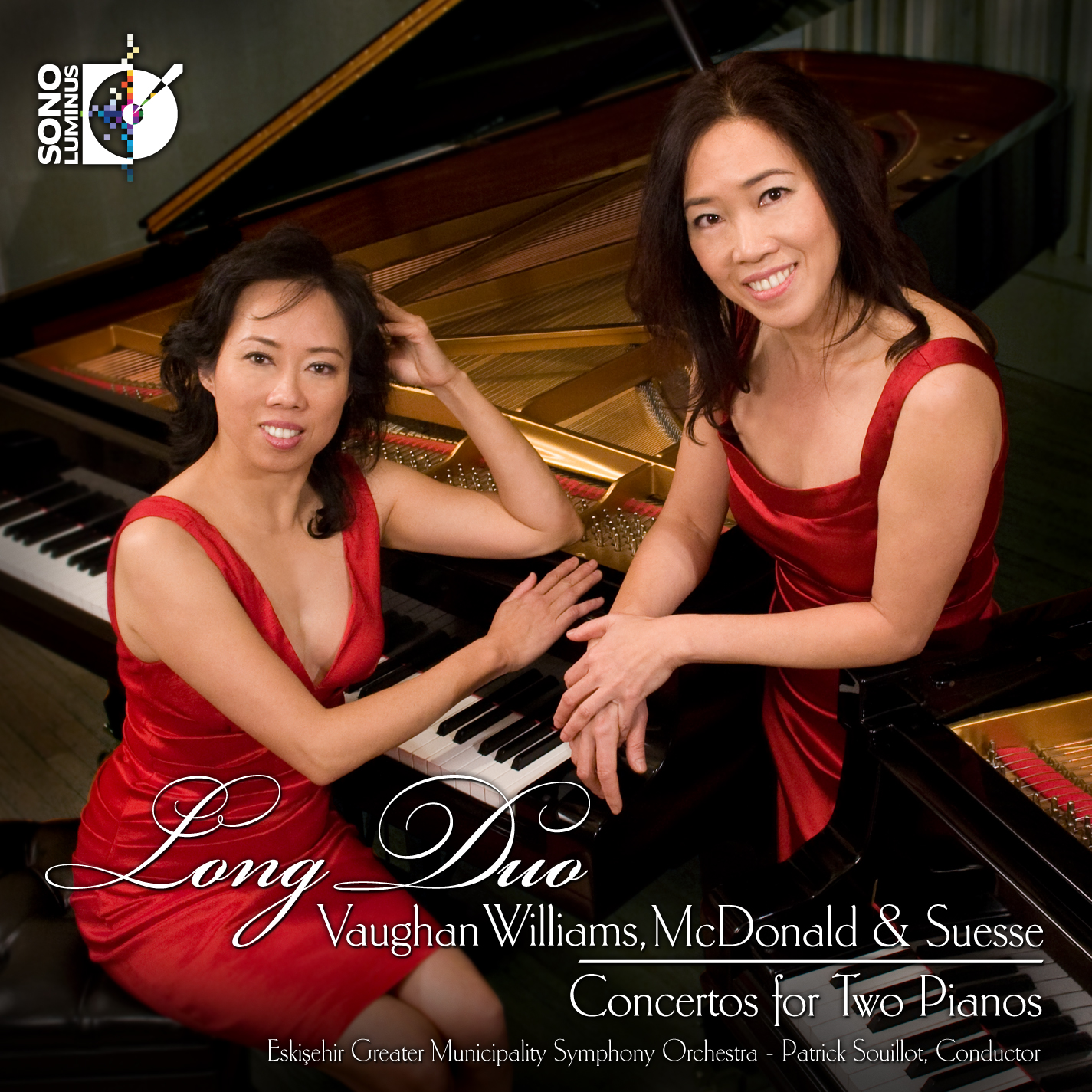 Vaughan-Williams, McDonald & Suesse: Concertos for Two Pianos
Artist: Long Duo
Composers: Harl McDonald, Dana Suesse, Ralph Vaughan-Williams
Format: 1 CD
DSL-92129
Sono Luminus is proud to present this program of three rarely heard concertos for two pianos and orchestra. The three works were composed during a twenty-year period between 1926 and 1946 and display virtuosity and lyricism that is highlighted so beautifully by the powerhouse Long Duo on piano.
A sought-after North American piano duo, the Long sisters have performed extensively in North America and Asia. The duo prides itself on presenting innovative programming that brings audiences new perspectives of classical piano music, and modern music by contemporary composers. Beatrice and Christina have enjoyed distinguished long careers together as well as individually, performing domestically in locales such as New York, Washington DC, Charleston, SC, Texas, New Jersey, Tennessee and Chicago, Illinois. The Long sisters have also performed in numerous locations around the world, including Taiwan, China, Singapore, Malaysia, England, France, Belgium, Austria, Switzerland, Canada, Mexico, Honduras, Costa Rica and Guatemala. Furthermore, Beatrice Long has performed as a "Musical Ambassador" throughout Central America, organized by U.S. Embassies in those countries.
Like George Gershwin, American composer Dana Suesse (1909-1987) was best known as a composer of popular songs. From her pen owed such favorites as "My Silent Love", "You Oughta Be in Pictures", "The Night is Young", and "You are so Beautiful". When Paul Whiteman featured her Concerto in Three Rhythms at Carnegie Hall in 1932, New Yorker dubbed her "The Girl Gershwin". Commissions followed and larger symphonic works were championed by such conductors as Eugene Goossens, Josef Krips, and Alfred Wallenstein. Her Concerto in E minor for Two Pianos and Orchestra was begun in 1934 and completed in 1941. Ethel Bartlett and Rae Robertson with the Cincinnati Symphony conducted by Eugene Goossens performed it in 1941. This is the very first commercial recording of this evocative four-movement work.
Once dubbed "as American as Pike's Peak," Harl McDonald (1899-1955) was a gifted pianist, who taught at the Philadelphia Music Academy and the University of Pennsylvania. He was general manager of the Philadelphia Orchestra (1939-1955). Despite his many administrative duties he never neglected composition, having written over two hundred works. His Concerto for Two Pianos and Orchestra was written in the summer of 1936 and was conceived as a work for orchestra with decoration in the solo instruments, a conception he derived from his observation of Mexican concert-bands. Although the concerto was recorded in 1937 by the Philadelphia Orchestra conducted by Leopold Stokowski with pianists Jeanne Behrend and Alexander Kelberine, this is the very first modern recording of the work.
Ralph Vaughan Williams (1872-1958) sketched the first two movements of his Piano Concerto in C Major in 1926, and added a third movement in 1930 for the British pianist Harriet Cohen. The work was rescored for two pianos in collaboration with Joseph Cooper (1912-2001) in 1946 and premiered by the London Philharmonic conducted by Clarence Raybould with pianists Cyril Smith and Phyllis Sellick. The Concerto for Two Pianos and Orchestra contains some extraordinarily powerful and beautiful music, and is, inexplicably still among Vaughan Williams least heard compositions.
This disc of robust color and splendor begins a new series of projects for Sono Luminus with the Long Duo devoted to the art of two-piano and four-hand literature.
Track List
Dana Suesse (1909-1987)
Concerto in E minor for Two Piano and Orchestra
1. I. Allegro — 7:51
2. II. Adagio — 6:40
3. III. Scherzo — 2:31
4. IV. Finale — 3:03
Harl McDonald (1899-1955)
Concerto for Two Pianos and Orchestra
5. I. Molto moderato — 6:48
6. II. Theme and Variations – Andante espressivo — 6:59
7. III. Juarezca: Allegro — 6:57
Ralph Vaughan Williams (1872-1958)
Concerto in C Major for Two Pianos and Orchestra
8. I. Toccata: Allegro moderato — 7:17
9. II. Romanza: Lento — 9:17
10. III. Fuga chromatica con nale alla tedesca: Allegro — 11:18
Total time: 68:37
Release date: March 2011
UPC: 053479212924