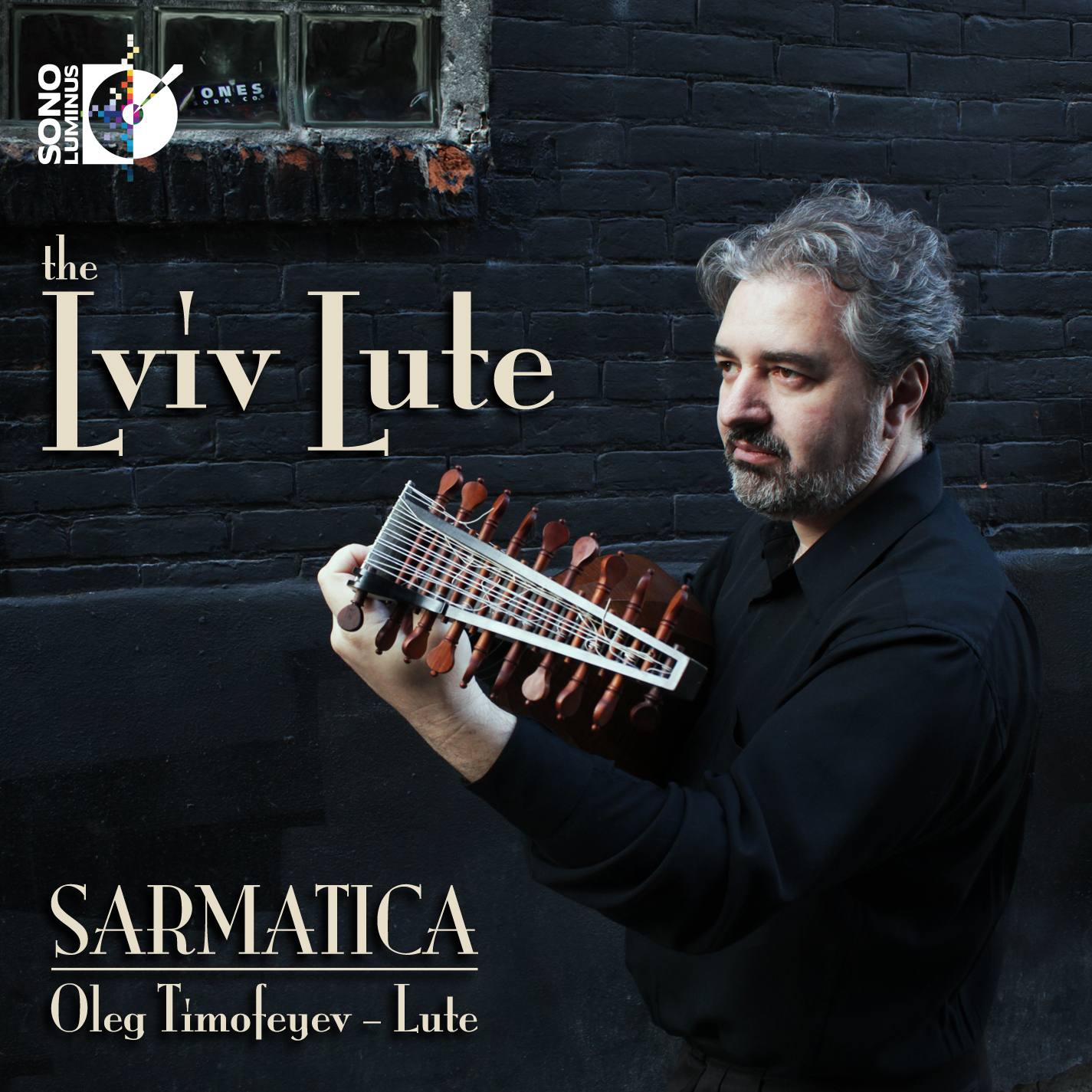 The Lviv Lute
Artist: Oleg Timofeyev
Composers: Georg Brack, Joan Ambrosio Dalza, John Dowland, Jacob Arcadelt, Benedict de Drusina, Pierre Sandrin, Giovanni Pacoloni, Johann Sommer, Valentin Bakfark
Format: 1 CD
DSL-92134
Raw passion and ancient energy electrifies the first release from Sarmatica on Sono Luminus. Led by world renowned guitarist Oleg Timofeyev, Sarmatica truly embodies the excitement of the music and the rich culture that developed it.
A medium-size anthology of vocal and instrumental music of the time, the Lviv
Lute Tablature offers a great range of genre and national variety in its content.
Next to the lute intabulations (i.e., ornamented arrangements of vocal music for
solo lute) of the most popular works of Orlando di Lasso, Clément Janequin and Pierre Sandrin one finds in it anonymous songs and dances, professional compositions more modest in scope. Aside from the compositions of Italian, French, German, and Polish origin that found their way into this collection, there are also the three virtuosic fantasias by the celebrated English lutenist John Dowland.
Oleg Timofeyev is an American musicologist and musician of Russian origin, specializing in lute and Russian guitar. He is best known for his pioneering work in the discovery, promotion, interpretation, and authentic performance of the repertoire for the 19th- and 20th-century Russian seven-string guitar. He has worked for the revival of Russian music played with authentic technique on the seven-string guitar, often in collaboration with other artists, including the Russian Roma guitarist Sasha Kolpakov, the Kolpakov Trio, and recently with the American guitarist John Schneidermann as the duo The Czar's Guitars, releasing the CD Souveneirs of Russia on the Sono Luminus label.
SARMATICA was created in 2009, when the Russian-American lutenist and musicologist Oleg Timofeyev arrived in Kyiv to teach as a Fulbright scholar. Soon he was invited to perform at the Seventh Early Music Festival in Lviv, where he met Danylo Pertsov and several other perspective members. A graduate of Kyiv Conservatory, Danylo Pertsov is an adventurous composer, a multi-instrumentalist early music specialist, and an expert on Ukrainian vocal traditions. It is due to Danylo's free spirit, imagination, and compositional skills that this program offers so much variety in sound and concept. Mikhail Kachalov plays ddle in a variety of styles, from Middle Ages and Renaissance to Scandinavian and Yugoslavian folk traditions. A graphic designer by training, Lubov Plavaska studied with Mekhdi Juse an, the famous Persian composer, leader of ensemble "Jaam," and performer on tar, setar, and tombak. In addition to her competence in the music of Iran, Kurds and Crimean Tatars, Lubov has studied the traditional Ukrainian singing and the Orthodox liturgy. Taras Kompanichenko is a celebrated epic singer of Ukraine and the leader of his own ensemble, Chorea Kozacky. Sergey Okhrimchuk is one of the most sought after violinists in Ukraine, equally creative in early Baroque and contemporary idioms.
With last year's release of Souvenirs of Russia (DSL–92112) from The Czar's Guitars, as well as numerous other releases from the Dorian catalog, Mr. Timofeyev is currently working on a multi-disc box set which will cover the full history of the Russian guitar (to be released in 2012).
Track List
1. Ick rew unth klak - Georg Brack
2. Pavana alla Ferrarese - Joan Ambrosio Dalza
3. Fantasia - John Dowland
4. Passamezzo Pavan - John Johnson
5. Prauiem doznal prziachielia swego (lute solo) - Anon.
6. Prauiem doznal prziachielia swego (ensemble) - Anon.
7. Dolenka moia lykhaia - Anon.
8. Quando io pensal martire ad te Saluator noster - Jacob Arcadelt
9. Fantasia - Benedict de Drusina
10. Rochalfaso (La Rocha el Fuso) - Anon.
11. Dulce mia amore (Doulce memoire) - Pierre Sandrin
12. Passamezzo – Anon.
13. Fantasia Bellisima - Giovanni Pacoloni
14. Non mortui laudabunt te, Domine (Psalm 115) – Anon.
15. Susanna Paduanna – Johann Sommer
16. Susanna Galliard - John Dowland(?)
17. Passamezzo "Nygdem Themu" – Anon.
18. Non dite mai que io habui torto – Valentin Bakfark
19. Tantum ergo sacramentum – Anon.
Total time: 63:05
Release date: June 2011
UPC: 053479213426