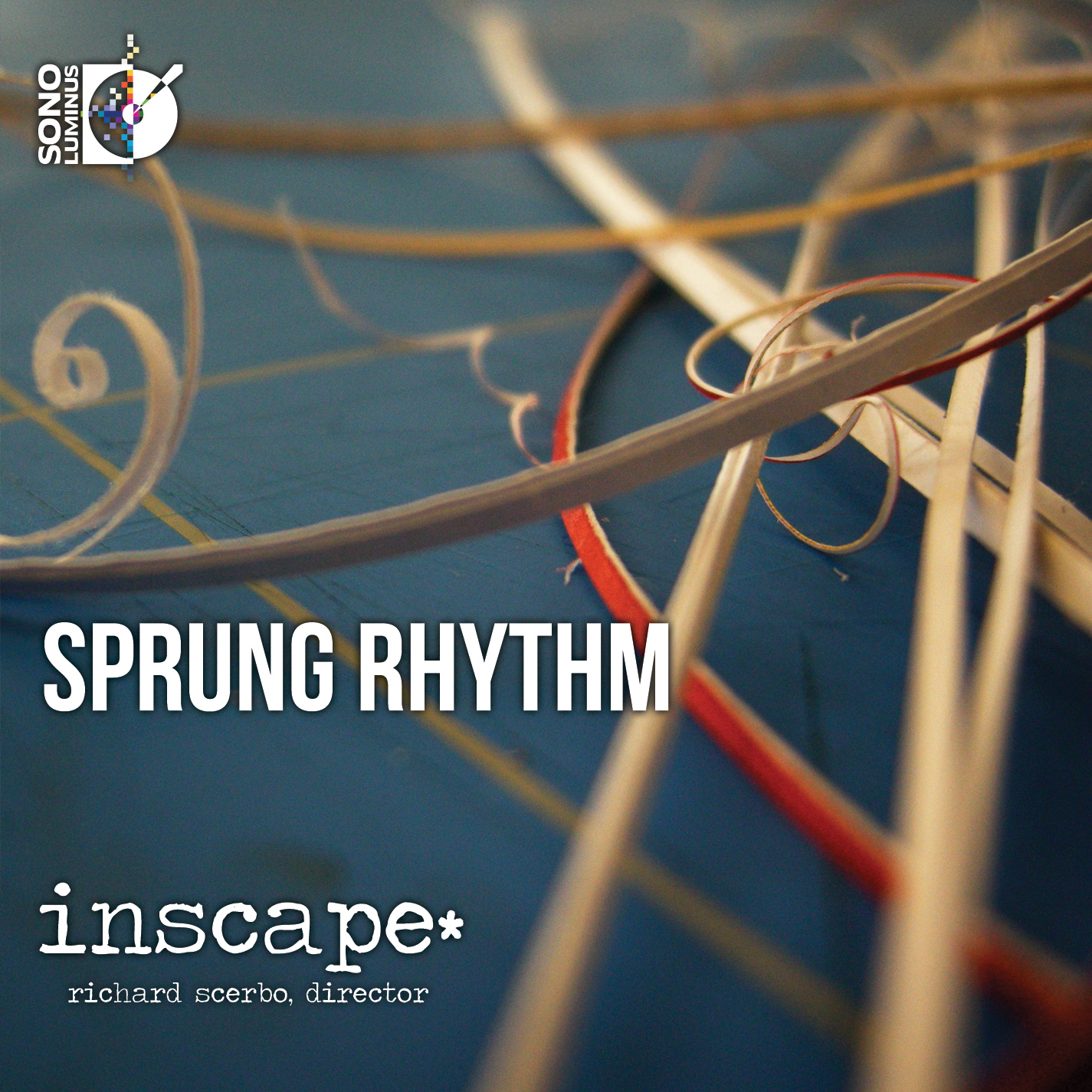 Sprung Rhythm
Artist: Inscape
Composers: Justin Boyer, Joseph Hallman, Nathan Lincoln-DeCusatis
Format: 1 CD + 1 Pure Audio Blu-ray
DSL-92170
sale
Nominated for the 56th GRAMMY Awards for Best Surround Sound Album.
Sono Luminus collaborates with the chamber orchestra Inscape to produce the aurally stunning Sprung Rhythm, an exciting collection of works from three composers that express new and diverse voices in American music.
Founded in 2004 by Artistic Director Richard Scerbo, Inscape performs concerts that aim to engage audiences and provide a compelling way to explore both standard and non-standard works. With its flexible roster of musicians, Inscape programs explore a variety of styles. Praised by The Washington Post for their "guts and musicality," Inscape's energetic concerts
are well-established in the Washington DC region and continue to garner praise from audiences and critics alike. Inscape has worked joyously and often with emerging American concerts featuring the music of our time. Since its inception, Inscape has commissioned over twenty works, including those heard on this album.
This unique brand of programming has made Inscape one of the most exciting ensembles in the Washington Metropolitan area. In 2012, Mr. Scerbo conducted members of Inscape in a performance of Dominick Argento's opera A Water Bird Talk for the composer as part of a month- long festival celebrating his music at the University of Maryland. In 2013, he led Inscape in multiple performances at the National Gallery of Art, including a program highlighting the music of the Ballets Russes featuring Igor Stravinsky's Renard and Manual de Falla's El corregidor y la molinera.
In addition to his work with Inscape, Mr. Scerbo is the Associate Artistic Director and General Manager of the National Orchestral Institute, a training program for orchestra musicians on the threshold of their professional careers. He serves concurrently as Assistant Director for Artistic Planning and Operations at the University of Maryland School of Music.
This Pure Audio Blu-rayTM release was conceived for surround, giving the listener a fully immersive and unique experience that highlights all of the intricate textures of the album. With the instrumentation varying on every piece, this album offers a beautiful palette of sonic colors and extreme dynamic range that will excite the common listener and the most critical audiophile.
Track List
Nathan Lincoln-DeCusatis
A Collection of Sand
1. I. An Ocean of Words 3:27
2. II. Herd Mentality 3:31
3. III. Melodic Abyss 5:44
Joseph Hallman
3 Poems of Jessica Hornik
4. No. 1. East Hill Road 7:13
5. No. 2. Pleasant Bay 2:40
6. Interlude 1:27
7. No. 3. Postscript: The Harebell 3:43
8. Epilogue 1:54
Justin Boyer
9. Con slancio 12:32
Nathan Lincoln-DeCusatis
Chopin Syndrome
10. Part I: Variation 1: Scherzo 3:49
11. Part II: Variation 2: Chorale - Variation 3: Nocturne 3:41
12. Part III: Theme - Intermezzo - Variation 4: Quasi alla polacca - Theme - Postlude 6:55
Joseph Hallman
Imagined Landscapes
13. I. — 3:10
14. II. — 2:52
15. III. — 1:36
16. IV. — 2:37
17. V. — 4:34
18. VI. — 2:26
Justin Boyer
Auguries
19. I. Attus Navius loses his pig 3:46
20. II. Finds it and thanks god(s) 2:16
21. III. Decides birds will show him the way 2:53
Total time: 82:36
Release date: July 2013
UPC: 053479217028
Quotes & Reviews
I approached listening to Sprung Rhythm with trepidation. It was all modern music. When the San Diego Symphony gives a world premier of a modern composition I am usually either bored to tears or assaulted by unpleasant dissonance. The music on Spring Rhythm is totally different from what I had imagined. This is modern classical music that will appeal to most classical music listeners.
…It's very finely performed and well recorded.