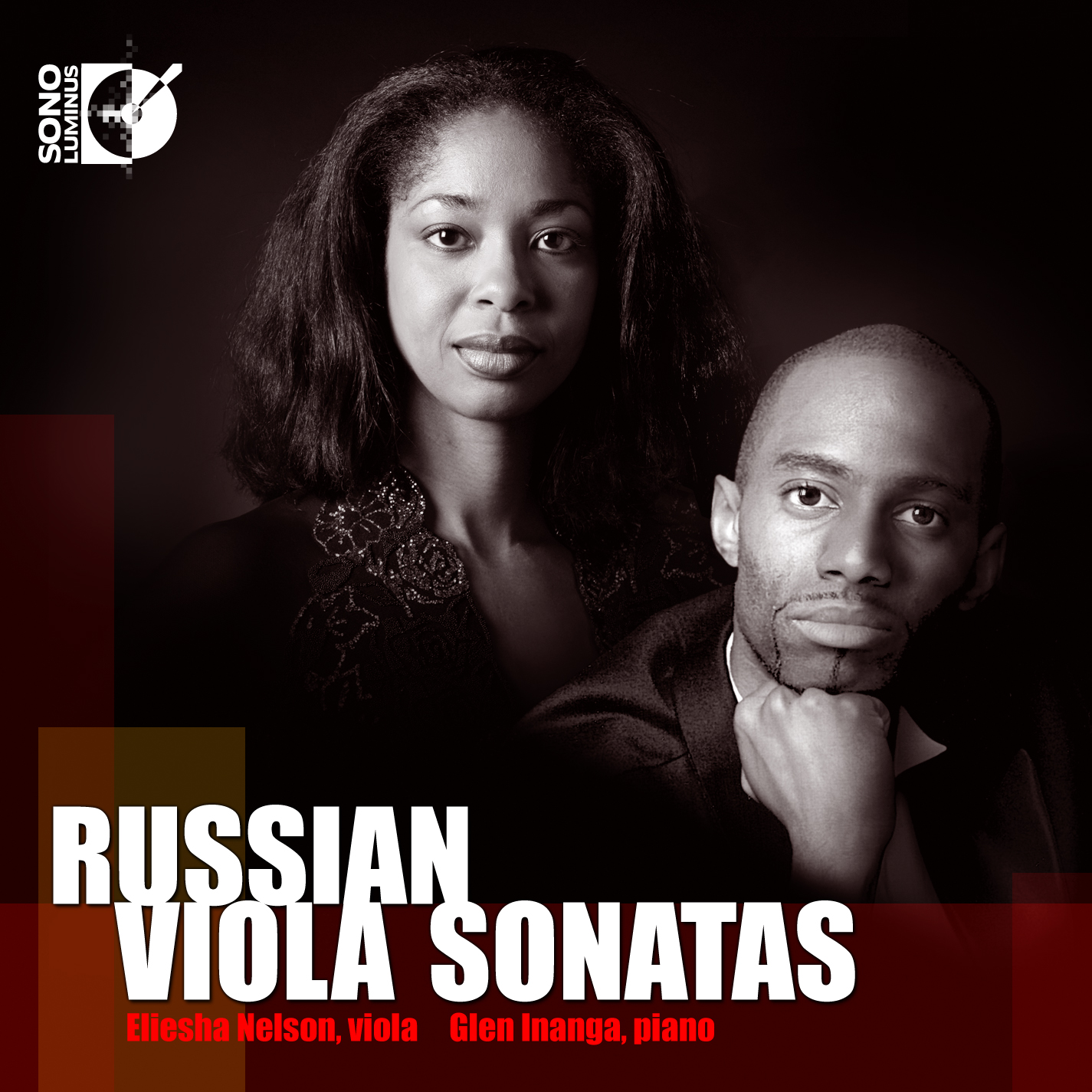 Russian Viola Sonatas
Artist: Eliesha Nelson (viola), Glen Inanga (piano)
Composers: Varvara Gaigerova, Alexander Winkler, Paul Juon
Format: 1 CD
DSL-92136
Multi GRAMMY-nominated violist Eliesha Nelson teams up with pianist Glen Inanga to present a unique and eclectic program of early 20th century Russian viola masterworks—bridging pre-Revolutionary Russian viola pieces and early Soviet period compositions with 2 world premiere recordings. Russian Viola Sonatas is the next in a series of recordings from Ms. Nelson, exploring important, significant and compelling viola literature not commonly heard on other releases. No other recording in the marketplace combines this unique literature on one release.
The album begins with a world premiere recording of "Suite for Viola and Piano, Op. 8"
by Varvara Gaigerova. Gaigerova (1903-1944) was the first significant Soviet woman
composer. A graduate of the Moscow Conservatory, she studied with Neuhaus, Catoire and Myaskovsky. Stylistically, the music is a blend of Romanticism with Scribinesque modernism. This piece is followed by the very rarely recorded "Sonata for Viola and Piano, Op. 15" by Paul Juon (1872-1940). Another Moscow Conservatory graduate, Juon studied with Arensky and Taneyev. From 1905 he lived in Berlin and Switzerland. He was known as the "Russian Brahms". His single viola sonata from 1901 is an excellent example of his stylistic blend of Brahmsian romanticism with Russian elements. The album concludes with another world premiere recording; Alexander Winkler's "Sonata 0p. 10". Winkler (1865-1935) was trained in Russia, France and Austria. He was Prokofiev's teacher and after 1924 head of the Besançon Conservatory. Considered a gifted and significant member of the so-called "Belyayev Circle", Winkler collaborated with Glazunov, Lyadov and Rimsky-Korsakov.
Eliesha Nelson was born and raised in the interior of Alaska. She earned her bachelor and master of music at the Cleveland Institute of Music, and an artist's diploma from the Royal Academy of Music in London through a Fulbright award. Ms. Nelson served as associate principal and acting principal viola of the Florida Philharmonic Orchestra and Florida Grand Opera, and is presently a member of the Cleveland Orchestra viola section. She has appeared as soloist with several orchestras including the Florida Philharmonic, Ohio Chamber Orchestra, and San Antonio Symphony. One of her big passions is chamber music, which she taught for several years at ENCORE School for Strings. She has also taught violin and viola privately, and through the Cleveland Music School Settlement outreach program at the Cleveland School of the Arts Lower Campus. Ms. Nelson was honored by the Recording Academy with GRAMMY nominations for her performance on her first album Quincy Porter: Complete Viola Works, for Best Instrumental Soloist(s) Performance (with Orchestra) and Best Chamber Music Performance. Subsequently the album was also nominated and won for Best Engineered Classical Album.
Glen Inanga, a Nigerian pianist of distinction, had originally studied Engineering at Clare College, University of Cambridge, before proceeding to the Royal Academy of Music, London to pursue a former quali cation in the area of his first love. Now a holder of a Master of Music degree of the University of London and Associate of Royal Academy of Music, Inanga has a standing partnership with Jennifer Micallef together with whom he won the 1995 Schubert Piano Duo competition in the Czech Republic. He is also a distinguished soloist and in this regard, a major feat of his was the Gershwin's Rhapsody in Blue performed to a capacity hall at Lincoln Centre, New York in 2000.
A follow up to last year's critically acclaimed Quincy Porter: Complete Viola Works, Russian Viola Sonatas highlights yet another side to the brilliance and passion of one of the world's nest violists. The album will provide the listener with world premiere recordings of 2 major works, and will give a glimpse into the rich musical tradition of Russia during that time period.
Track List
Suite for Viola and Piano, Opus 8 - Varvara Gaigerova
1. I. Allegro agitato
2. II. Andantino
3. III. Scherzo: Presto
4. IV. Moderato

Two Pieces for Viola and Piano, Opus 31 - Alexander Winkler
5. I. Méditation élégiaque (Andante mesto poco mosso)
6. II. La toupie: scène d'enfant: Scherzino (Allegro vivace)

Sonata in D Major for Viola and Piano, Opus 15 - Paul Juon
7. I. Moderato
8. II. Adagio assai e molto cantabile
9. III. Allegro moderato

Sonata in C minor for Viola and Piano, Opus 10 - Alexander Winkler
10. I. Moderato
11. II. Allegro agitato (attaca)
12. III. L'istesso tempo ma poco rubato
IV. Variations sur un air breton
13. Thème: Andante
14. Variation 1: L'istesso tempo poco rubato
15. Variation 2: Allegretto
16. Variation 3: Allegro patetico
17. Variation 4: Andante molto espressivo
18. Variation 5: Allegro con fuoco
19. Variation 6: Andante sostenuto
20. Variation 7: Fuga (Allegro moderato)
21. Coda: Poco più animato – Maestoso pesante
Total time: 72:01
Release date: July 2011
UPC: 053479213624