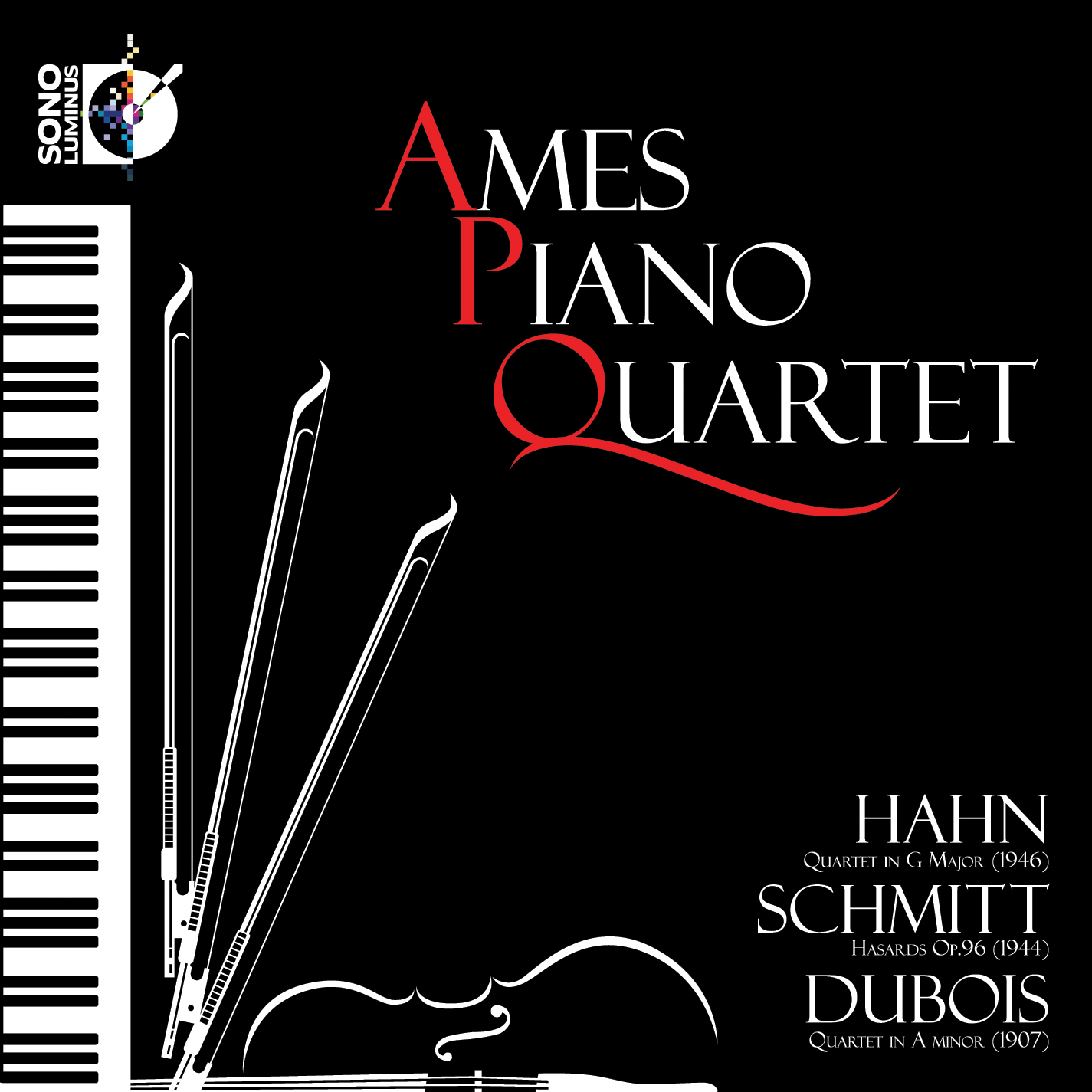 Hahn—Schmitt—Dubois
Artist: The Ames Piano Quartet
Composers: Reynaldo Hahn, Florent Schmitt, Theodor Dubois
Format: 1 CD
DSL-92141
Sono Luminus has once again partnered with the Ames Piano Quartet to create their latest release, Hahn - Schmitt - Dubois, a celebration of the masterful work of composer Théodore Dubois and two of his most gifted students, Reynaldo Hahn and Florent Schmitt.
The Ames Piano Quartet, the resident chamber music ensemble at Iowa State University, holds a distinctive position in the chamber music eld as one of the few professional touring piano quartets in the world. The combination of their lush string sound, blended with the orchestral quality of the piano, produces an exquisite and rare sonority. The Washington Post aptly described it as "one of the most heavenly combinations of instruments around."
Born in Caracas, Venezuela on August 9, 1874, Reynaldo Hahn grew up in France where he became, in the words of Paul Landormy, "the most Parisian of Parisians". The composer thus gave point to Sacha Guitry's pronouncement that "to be a Parisian is not to be born in Paris, but to be reborn there". So fully was Hahn reborn—he assumed French citizenship in 1909—that he was in 1945 made one of the "Immortals" through his election to the French Academy. Best known in his lifetime for his operas, operettas, and ballets and best remembered now for his songs, Reynaldo Hahn also produced a clutch of orchestral works and nearly two dozen chamber compositions, the last of which was the Piano Quartet in G. Issued in 1946 as the composer's "Quartet No. 3"—it was preceded by two string quartets from 1939—the piece was apparently written four years earlier.
With the 1906 premiere of his epical setting of Psalm 47, a work offering Debussy drenched in Orientalism, Florent Schmitt won overnight recognition as a bold new voice in French music. He cemented his reputation as an exemplar of the avant-garde with his grandly scaled Piano Quintet (1908) and his orchestral blockbuster, La Tragédie de Salomé (1910), a rescoring of a ballet originally written in 1907 for a 20-piece theater orchestra. At a still young age, he had become a name. Schmitt's travels undoubtedly contributed to the exoticism that flavored many of the compositions from his early and middle years. As he aged, however, his style softened, and he increasingly occupied himself with more intimate and modestly proportioned chamber works of often genial character. A case in point is Hasards ("Chances" or, in Arthur Cohn's translation, "Ventures") for piano quartet, a work written in 1939 but not premiered until February 1943 at a concert in Paris. Where Schmitt's earliest compositions had been clearly calculated to stun their audiences, Hasards is a work that, in the words of Yves Hucher, "has, in its desire to please, no other aim than to be real music".
Though he is dimly remembered today, Théodore Dubois held a commanding place in French music during the last third of the 19th century. In outline, Dubois' life ran parallel to that of his pupil, Florent Schmitt. Both men rose from humble origins to eminence on the basis of their talents, both enjoyed a great success early in their composing careers, and both saw their reputations ebb during the latter years of their long lives. As a composer, Dubois made his most enduring mark with his Seven Last Words of Christ, written in 1867. The oratorio became a fixture of Easter-season concerts for decades after. Dubois' greatest influence upon French music, however, came through his affiliation with the Paris Conservatory, to which he was appointed as teacher of harmony in 1871.
This sonic treat is a delightful follow-up the Ames Piano Quartet's celebrated Mozart - Hummel - Beethoven (DSL-92120).
Track List
Quartet in G Major (1946) — Reynaldo Hahn (1874-1947)
[1] Allegretto moderato
[2] Allegro assai
[3] Andante
[4] Allegro assai
Hasards Op.96 (1944) — Florent Schmitt (1870-1958)
[5] Exorde
[6] Zélie-au-pied-léger
[7] Demi-soupir
[8] Bourrée-bourrasque
Quartet in A minor (1907) — Théodore Dubois (1837-1924)
[9] Allegro agitato
[10] Andante molto espressivo
[11] Allegro leggiero
[12] Allegro con fuoco
Total time: 73:20
Release date: September 2011
UPC: 053479214126