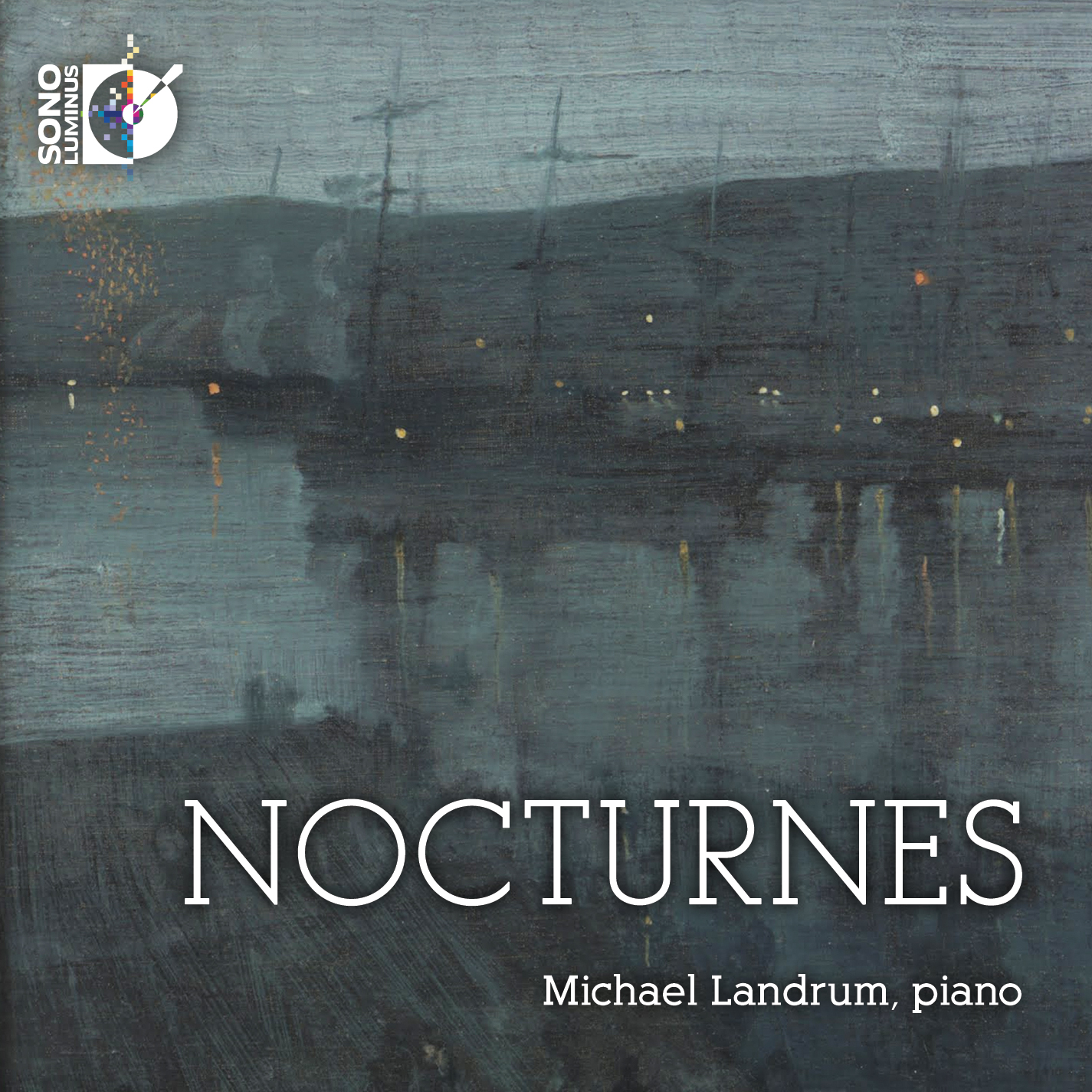 Nocturnes
Artist: Michael Landrum
Composers: John Field, Frédéric Chopin, Ottorino Respighi, Alexander Scriabin, Gabriel Fauré, Jean Francaix, Jean Sibelius, Georges Bizet, Mily Balakirev, Charles-Vantin Alkan, Erik Satie, Francis Poulenc, Cyril Scott, Edvard Grieg, Serge Rachmaninoff, Alexandre Tansman, Claude Debussy, Alec Rowley, Clara Wieck- Schumann, Manuel de Falla, Franz Liszt, Samuel Barber, Alexander Tcherepnin, Pyotr Il'yich Tchaikovsky, Norman Dello Joio, Alexander Borodin, Charles Tomlinson Griffes, Fanny Mendelssohn-Hensel, Gian-Carlo Menotti, Ralph Vaughan-Williams, Aaron Copland
Format: 2 CDs
DSL-92158
Sono Luminus is proud to present this two-disc set from pianist Michael Landrum, Nocturnes, bringing together a plethora of composers' works that enliven the nocturne genre of music.
The word conjures intimations of night, and this is translated musically into many different musical styles and procedures. One may think of a "night piece" as a lullaby, but that is rarely a possibility, for tumultuous or at least energetic furors are almost invariably present in the central sections of these preponderantly ABA works. With the exception of only a few pieces, anyone trying to sleep to them would have a rude awakening.
Although the title Nocturne is most closely allied with the twenty-one keyboard works of that name composed by Frédéric Chopin (1810-49), the genre should be discussed initially in connection with Irishman John Field (1782-1837), the true originator of the genre (c. 1807). A highly gifted pianist in his own right, it is realistic to posit that Field developed the nocturne for his own concert performances.
A native of Augusta, Georgia, Michael Landrum received the Bachelor of Music degree from Oberlin College and the Master of Fine Arts degree from California Institute of the Arts. After earning his Doctor of Musical Arts degree from Temple University, he became Professor of Music and Film Studies at Roberts Wesleyan College in Rochester, New York.
In 1976, Mr. Landrum won first prize in the J.S. Bach International Competition for Pianists in Washington, D.C. In that region he has performed at the Phillips Collection, the Pan American Union and the Corcoran Art Gallery, as well as with the Baltimore Symphony.
In the Upstate New York area, Mr. Landrum has performed with the Buffalo Philharmonic Orchestra and the Rochester Chamber Orchestra, as well as at numerous colleges and universities.
During his doctoral studies in Philadelphia, Michael Landrum was a student of Harvey Wedeen. He also studied for seven years with Edna Golandsky in New York City and was a frequent participant in master classes with Dorothy Taubman. In June of 2005, he presented a Nocturne Lecture/Recital at Columbia Artists Management Hall in New York.
The nocturne genre has long been a topic of interest to Mr. Landrum. He has had the opportunity to share his insights into this ever-evolving repertoire on many occasions throughout the country.
Track List
Disc 1
1. Nocturne No. 4 in A Major – John Field
2. Nocturne in C-sharp minor, Op. 27, No. 1 – Frédéric Chopin
3. Notturno, from Sei pezzi - Ottorino Respighi
4. Nocturne in D-flat Major for the Left Hand, Op. 9, No. 2 – Alexander Scriabin
5. Nocturne in A-flat Major, Op. 33, No. 3 – Gabriel Fauré
6. Nocturne – Jean Francaix
7. Nocturno in E minor, Op. 24, No. 8 – Jean Sibelius
8. Nocturne in D Major – Georges Bizet
9. Nocturne No. 2 in B minor – Mily Balakirev
10. Premier Nocturne, Op. 22 – Charles-Valentin Alkan
11. Premier Nocturne – Erik Satie
12. Nocturne No. 1 in C Major – Francis Poulenc
13. Notturno, Op. 54, No. 5 – Cyril Scott
14. Notturno, Op. 54, No. 4 – Edvard Grieg
15. Nocturne in A minor, Op. 10, No. 1 – Sergei Rachmaninoff
16. Nocturne, from Cinq Impressions – Alexandre Tansman

Disc 2
1. Nocturne in B-flat minor, Op. 9, No. 1 – Frédéric Chopin
2. Nocturne in D-flat Major – Claude Debussy
3. Notturno, Op. 6, No. 2 – Clara Wieck-Schumann
4. Nocturne No. 5 in F Major – Alec Rowley
5. Nocturno in F minor – Manuel de Falla
6. Notturno No. 3 in A-flat Major (S.541) – Franz Liszt
7. Nocturne, Op. 33 – Samuel Barber
8. Nocturne in G-sharp minor, Op. 2, No. 1 – Alexander Tcherepnin
9. Nocturne in C-sharp minor, Op.19, No. 4 – Pyotr Il'yich Tchaikovsky
10. Nocturne in E Major – Norman Dello Joio
11. Nocturne, from Petite Suite – Alexander Borodin
12. Notturno in A-flat Major, Op. 6, No. 2 – Charles Tomlinson Griffes
13. Notturno in G minor – Fanny Mendelssohn-Hensel
14. Notturno, from Poemetti – Gian-Carlo Menotti
15. Nocturne, from A Little Piano Book – Ralph Vaughan Williams
16. Midsummer Nocturne – Aaron Copland
Disc 1 time: 70:39
Disc 2 time: 63:18
Release date: August 12, 2012
UPC: 053479215826