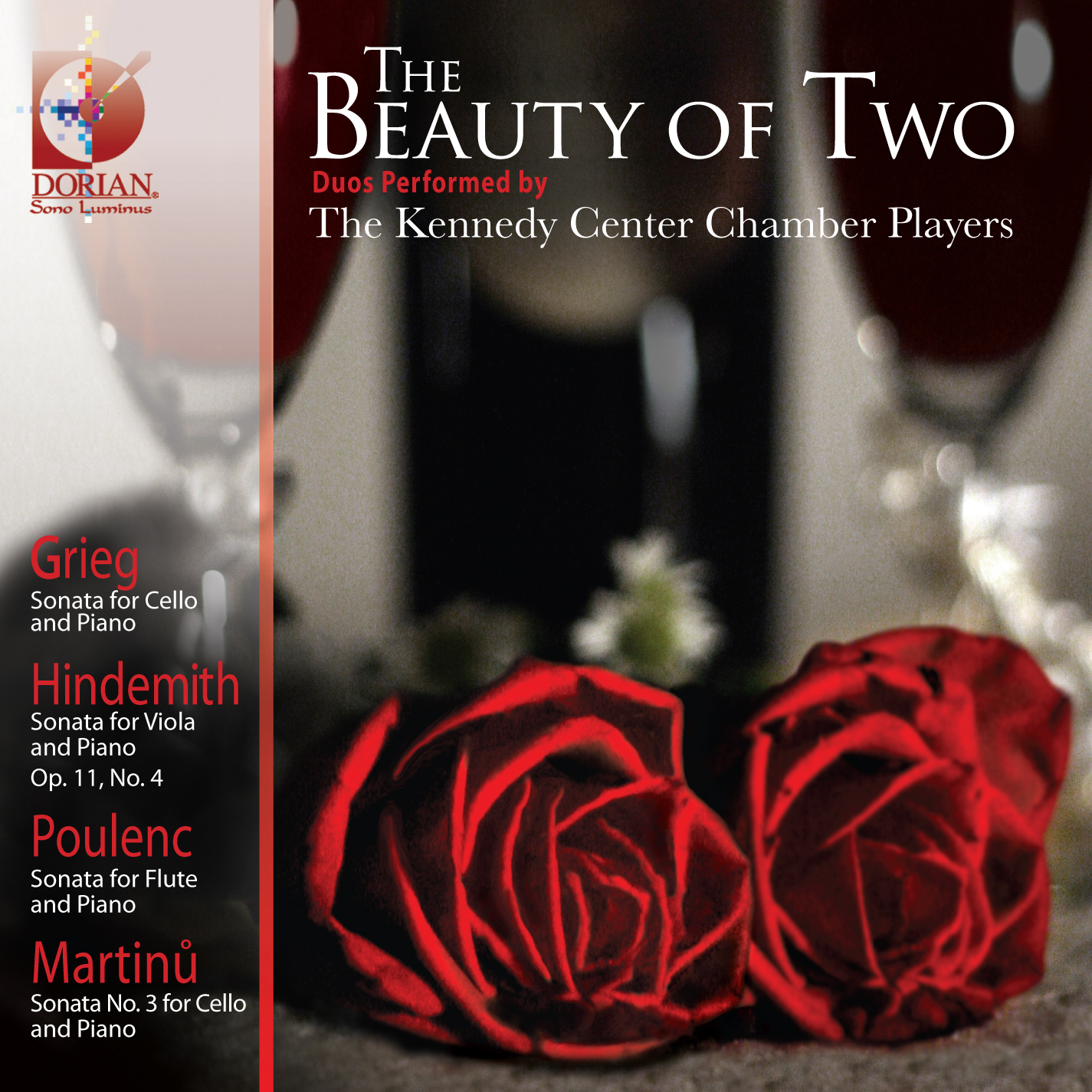 The Beauty of Two
Artist: Kennedy Center Chamber Players
Composers: Edvard Grieg, Paul Hindemith, Bohuslav Martinů, Francis Poulenc
Format: 1 CD
DSL-90705
In this premier recording, musicians of the Kennedy Center Chamber Players, consisting of Principal Chair members of The Kennedy Center's National Symphony Orchestra in Washington, D.C., present their imaginative interpretations of the most intimate and personal of chamber music genres—the instrumental duo.
The pieces are wonderful and often feature rapid interactive dialogue between two musical partners.
Welcome to the beauty of two...
In powerful works ranging from the folk-inspired music of the Norwegian Edvard Grieg, the highly-charged and hauntingly narrative utterances of the young German Paul Hindemith, the urbane and immensely enjoyable flights of musical fancy of France's Francis Poulenc, to the creative and zesty aural landscapes of the Czech Bohuslav Martinu; The Kennedy Center Chamber Players capture and joyfully savor every delicious nuance of this international musical feast.
This is music to lift the spirits of the listener. Optimism abounds and the works, thanks to the abilities of the talented and original composers, as well as the impassioned performances of these musicians, seem young and fresh. It is with pleasure that we offer this recording of duo sonatas by Martinu, Poulenc, Hindemith and Grieg.
Track List
Edvard Grieg: Sonata for Violoncello and Piano in a minor, Op. 36:
1. Allegro agitato
2. Andante molto tranquillo
3. Allegro
Paul Hindemith: Sonata for Viola and Piano, Op. 11, No. 4:
4. I. Fantasie
5. II. Thema mit Variationen
6. III. Finale (mit Variationen)
Francis Poulenc: Sonata for Flute and Piano:
7. Allegro malinconico
8. Cantilena: Assez lent
9. Presto giocoso
Bohuslav Martinu: Sonata No. 3 for Violoncello and Piano:
10. I. Poco andante
11. II. Andante
12. III. Allegro (ma non Presto)
Total time: 74:12
Release date: 2007
UPC: 053479070524