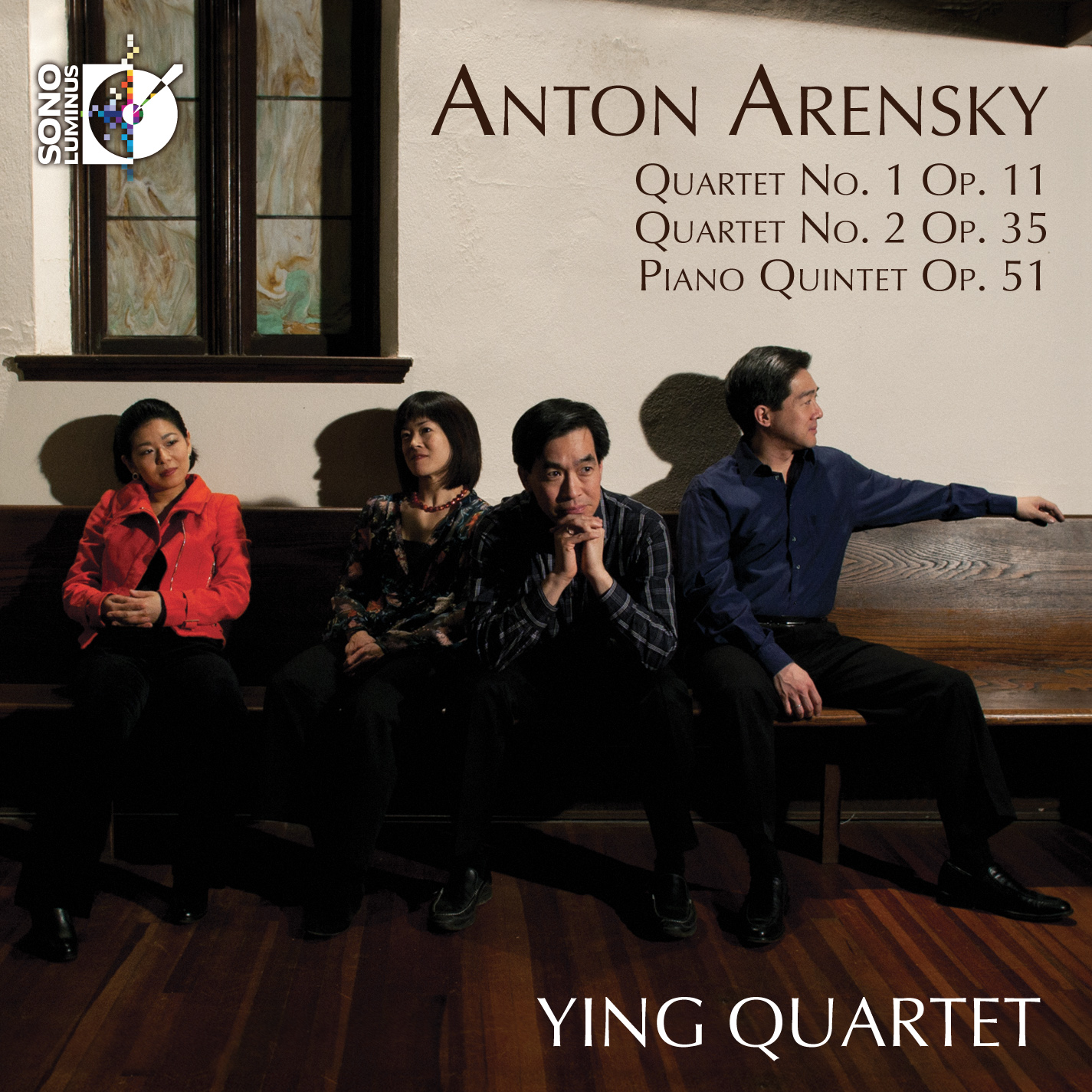 Anton Arensky
Artist: Ying Quartet
Composer: Anton Arensky
Format: 1 CD
DSL-92143
Sono Luminus is proud to be a part of the Ying Quartet's commitment to expanding the rich string quartet repertoire with their latest release, Anton Arensky.
Chamber music fans may be familiar with Arensky's beautiful and exciting "Piano Trio No. 1". Arensky's chamber music writing shows off some of his greatest strengths as a composer, and throughout his trios, quartets and quintet, his music is consistently lyrical, expressive, rich, and often brilliant. Because of Arensky's close relationship with Tchaikovsky, the release makes an intriguing follow-up to the Ying Quartet's earlier GRAMMY®-nominated record, Tchaikovsky: Three String Quartets And "Souvenir de Florence" Sextet In D Minor.
Arensky actually composed two versions of his "String Quartet No. 2". One of them is scored for traditional string quartet, and the other is scored for violin, viola and 2 cellos. The musical material in both versions is identical, but by examining the different compositional solutions Arensky arrived at for each ensemble, one can appreciate all the more his imagination for color and the facility of his writing. In the two-cello version, Arensky takes full advantage of the additional depth and fullness possible with two bass instruments; the opening of the Quartet sounds especially rich like low voices chanting together. On the other hand, the paired violins of traditional quartet instrumentation allow many of the lyrical passages to soar and sing out in a higher range. The string quartet version of the Second Quartet is represented on this record, of course, and is in fact the less frequently performed version.
For the "Piano Quintet in D Major Op. 51", Arensky makes full use of the increased resonance, volume, and virtuosic possibilities of adding a piano to the string quartet. This is full-blooded, passionate, and singing music that perfectly captures the spirit of Russian music of the second half of the 19th century. Ying Quartet revels in the way Arensky writes uncomplicated sweeps of emotion that arrest a listener from the first notes of the Quintet to the reprise of the same music 25 minutes later that closes the work as warmly and triumphantly as it opens. In between, there are moments of great subtlety and detail, from the expressive range of the theme and variations slow movement to the bustling scherzo. The Quartet is joined by their colleague and friend, Adam Neiman, who himself has recently made a recorded exploration of Arensky's solo piano works.
The Ying Quartet occupies a position of unique prominence in the classical music genre, combining brilliantly communicative performances with a fearlessly imaginative view of chamber music in today's world. Now in its second decade as a quartet, the Quartet has established itself as an ensemble of the highest musical qualifications in its tours across the United States and abroad. This recording of Anton Arensky is the sophomore release from Ying Quartet on the Sono Luminus label following their previous release, Ying Quartet Plays LifeMusic III (DSL-92114).
Track List
String Quartet No.1 in G Major Op.11
1. i. Allegro
2. ii. Andante sostenuto
3. iii. Menuetto: Allegretto
4. iv. Finale (Variations sur un theme russe): Allegro non troppo
String Quartet No.2 in A minor Op.35
5. i. Moderato
ii. Thème and Variations
6. Theme: Moderato
7. Variation I: Un poco piu mosso
8. Variation II: Allegro non troppo
9. Variation III: Andantino Tranquillo
10. Variation IV: Vivace
11. Variation V: Andante
12. Variation VI: Allegro con spirito
13. Variation VII: Andante con moto
14. Coda: Moderato
15. iii. Finale: Andante sostenuto – Allegro moderato
Piano Quintet in D Major Op.51
16. i. Allegro moderato
17. ii. Variations: Andante
18. iii. Scherzo: Allegro vivace
19. iv. Finale (in modo antico): Allegro moderato
Total time: 77:12
Release date: October 2011
UPC: 053479214324